Welcome, to the GroLine AGS!
The newest addition to the Hanna Instruments GroLine line of instrumentation is finally here..
Control Your Grow Operation.
Introducing the Next Generation Fertigation System Integrating Controlled Environment Agriculture (CEA). Taking your facility to the next level is easy with the New GroLine Automated Grow System. Easily control and monitor your lighting, irrigation, and environmental conditions for your grow operation from anywhere, anytime with cloud-based software. With fully automated nutrient injection and pH adjustment, everything you need to optimize your yield is now at your fingertips.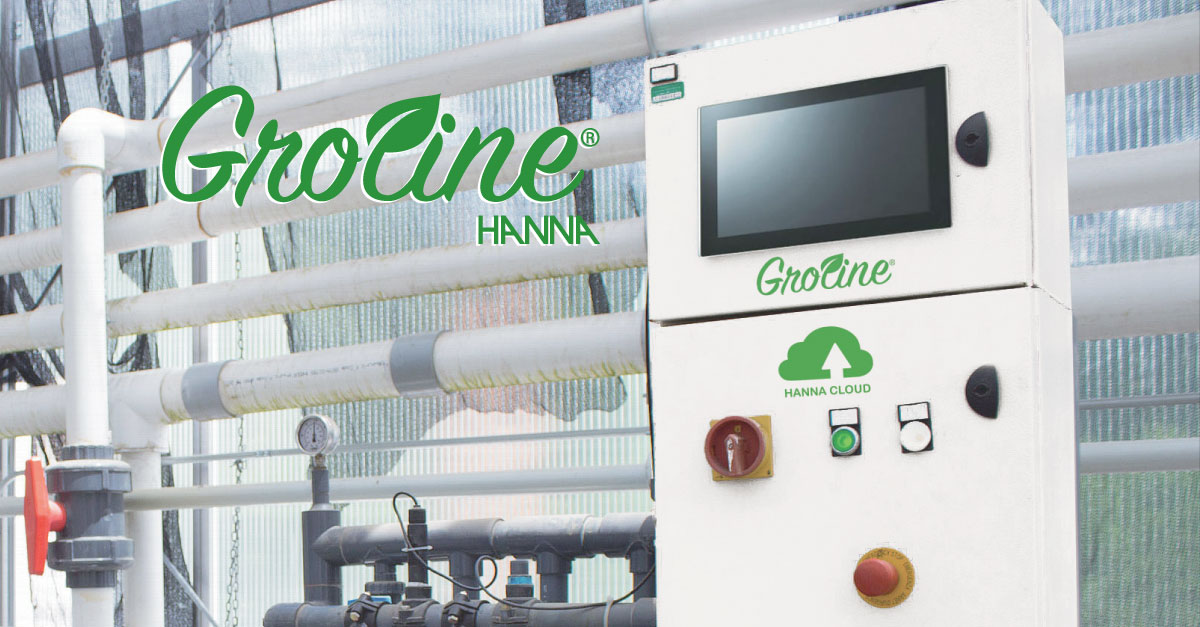 What Is Awesome About This System?
#1. Integration into CEA systems.
The new GroLine AGS is able to be installed with current CEA systems and will have the ability to expand in the future.
What is CEA?
CEA stands for controlled environment agriculture. This applies to vegetation grown inside a structure vs. out in the open. When flora is grown in a structure ie. greenhouse, we are able to control almost every aspect of the environment (humidity, light, nutrients, water, water chemistry, airflow).
#2. Cloud-Based Software
When controlling an environment for optimal growth, that is an around-the-clock job. Everyone deserves a break and peace of mind. GroLine AGS will give you access to cloud-based software where you are able to remotely access your instrumentation and live time data. Never worry about running back to check and make sure things are safe and sound. Just login and take a peek, and make adjustments through the software.
#3. Customization
Customization is key for any grow operation. We know that you need tailored options in order to get the best crops possible. With the GroLine AGS you can have up to 16 nutrient injectors, and over 255 programs to provide flexibility for all of your crop and nutrient needs.
#4. Simplicity
Besides the Hanna Cloud, when you are onsite, the operation of the GroLine AGS is easy! A touch screen allows you access to the interface. Pair that with intuitive programming, and the effortless touch screen interface, you have an uncomplicated and straightforward system that gives you control at your fingertips!
Control the water and nutrients in your system while still introducing them directly to your crop's root systems.
Why Upgrade From a HI10000?
The customization capabilities to dynamically create and define a multitude of inputs and outputs gives the user greater control.
Being able to set controls to environmental setpoints allows you to be linked to what is actively happening in the root zone of your crop.
Integration of electrical conductivity (EC) monitoring and control can be linked to other sensors. Minute changes can be made in live-time to benefit your plants. This helps to minimize waste and runoff.
Expandability here is HUGE. With this unit, there is virtually unlimited input and outputs.
Are you looking to automate your crop testing? Talk to a Hanna specialist today and ask about our agriculture and hydroponics solutions. For more information regarding how Hanna Instruments can help you with your needs, contact us, at sales@hannainst.com or 1-800-426-6287.
---
Resources:
https://www.edengreen.com/blog-collection/what-everyones-saying-about-controlled-environment-agriculture#:~:text=%E2%80%9CControlled%20Environment%20Agriculture%20(CEA),vertical%20farms%20and%20growth%20chambers.

Written by Allison Hubbard
Allison graduated from Bryant University with a Master's Degree in Global Environmental Studies. She is passionate about nature, and how science is connected to the world around us. At Hanna, she provides an array of content and support to customers through the Hanna Blog, SOPs, and Data Sets.
Allison may be reached at ahubbard@hannainst.com.