2021 was a busy year for us at Hanna Instruments!
This year the future met the present with the release of a number of new products! Everything from controllers, pool monitoring, Bluetooth electrodes, and more!
---
Universal Process Controller -
HI510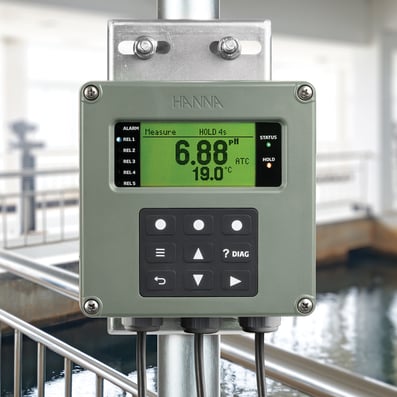 This universal controller comes in two configurations, the HI510-0540 (5 relays and 4 analog outputs), and the HI510-0320 (3 relays and 2 analog outputs). The enclosure is NEMA 4X (IP65) allowing this rugged controller to be able to be installed indoors, outdoors, and in industrial settings. The HI510 has an intuitive interface with multiple programmable alarms. The universal mounting allows for flexible options when installing.

Portable pH/EC/DO Meter with Bluetooth -
HI98494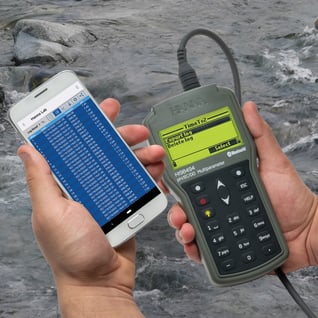 The newest edition to the HI98xxx family of meters, the HI98494 is able to test 12 different parameters in water quality and it is Bluetooth enabled! This meter (via Bluetooth) allows for seamless transfer of GLP (Good Laboratory Practices) data to virtually any smart device via the Hanna Lab App. The digital probe allows for three different sensors to be attached. These include a pH/ORP probe, an EC (electrical conductivity) probe, and an optical DO (dissolved oxygen) probe. The HI989494 Portable pH/EC/DO Meter with Bluetooth is built to withstand the most rugged conditions out in the environment and in industrial settings.
Marine Nitrate High Range Checker -
HI782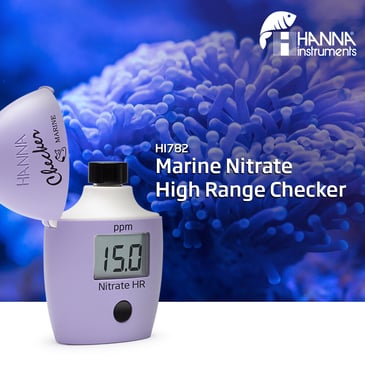 Whether you are a seasoned aquarist or just starting out, a balanced nitrogen cycle is paramount to the health of your aquarium. Testing of your tank water is necessary to monitor the various stages of the cycle. One parameter that has been long waited for is testing nitrates in saltwater. We already released the Saltwater Nitrate Low Range Checker® HC - HI781, but what about being able to test in water with higher nitrates? This is where the Marine Nitrate High Range Checker® HC - HI782 comes in! This little checker fits in the palm of your hand and can be taken anywhere you need to spot-check nitrates in saltwater. Needing only one reagent means that testing is quick and easy.

GroLine Dosing Systems -
HI981412 &
HI981413
These dosing systems are two peas in a pod! When working with hydroponic and irrigation systems pH and the nutrient solution play vital roles. Plants can be picky, and require certain pH ranges in order to thrive and uptake nutrients. A balanced nutrient solution helps to aid in proper sprouting, growth, and bountiful harvests. Having to manually monitor pH and nutrient solution takes a lot of time, and you would only be spot-checking, not monitoring in live-time to check the trends. Automatic dosing systems allow you to monitor your systems in live time, and to let the instruments make small adjustments to your solution. This will help you correct imbalances before they become a big problem.

pH/ORP Controller with Hanna Cloud Connectivity -
BL12x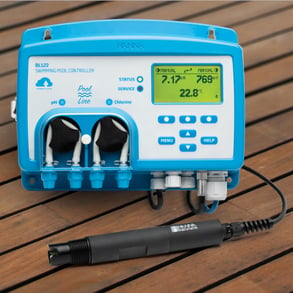 A dip in a pool or spa can be blissful, but how can you ensure the water you're swimming in is safe? You can get a pool test kit and test periodically. However you will still risk overbearing chlorine smell, improper pH, and more. To solve all of this, a pH/ORP controller monitors the water parameters and adjusts the parameters automatically. Not only that, our newest controller also has Cloud connectivity! Track your pools, hot tubs, and spas wherever you are!

HALO2 Wireless pH Testers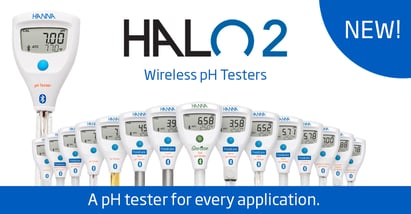 Test anywhere with your phone! That's right with your phone (or tablet). The new line of HALO2 testers allows you to take laboratory-grade pH measurements anywhere you can take a smart device. The testers utilize Bluetooth® 5.0 Wireless Technology and connect wirelessly to the free Hanna Lab App. Application-specific pH sensing tips allow for easy measurement in complex sample matrices. Start testing with our 15 new electrodes in everything from beer, to chocolate, to soil!


NEW Updates to Two Popular pH Testers
Okay, these two testers aren't new, they are oldies-but-goodies. However, they have undergone an update! When testing pH it is well known that you should calibrate to a minimum of two calibration points. These points need to also bracket your testing range. Now, both these testers can be calibrated to three points, meaning greater accuracy for you!
Got Questions?
For more information regarding how Hanna Instruments can help you with your testing needs, contact us, at sales@hannainst.com or 1-800-426-6287

Written by Allison Ball
Allison graduated from Bryant University with a Master's Degree in Global Environmental Studies. She is passionate about nature, and how science is connected to the world around us. At Hanna, she provides an array of content and support to customers through the Hanna Blog, SOPs, and Data Sets.
Allison may be reached at ahubbard@hannainst.com.