Science at its best!
The whir of magnetic stirrers, pistons pumping, and the beeping of instruments filled the air at Pittcon 2019. Thousands of visitors, hundreds of exhibitors, and many new products to view. No worries if you missed out this year, or if you need a recap, we'll fill you in below!

What did you miss at Pittcon 2019?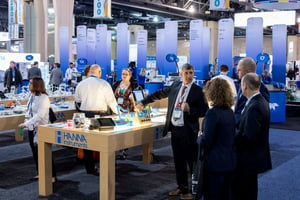 Many things happened at Pittcon 2019, but here is your highlight reel
(below).
The Gauntlet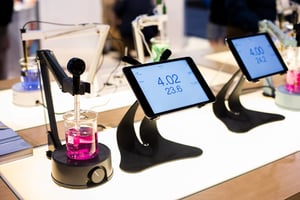 Back for our second year in the Gauntlet, hundreds of people enjoyed our pH Shuffleboard Challenge. Made by our GM, the shuffleboard is a one-of-a-kind; featuring our Hanna HALO Bluetooth® pH Meter. People picked either Team Acid or Team Base, and the game was on! Landing on the pH scale took skill - especially since your opponent could neutralize you!
New Products
This temperature data logger is waterproof and can be programmed to log data at various intervals; from 1 minute to 24 hours.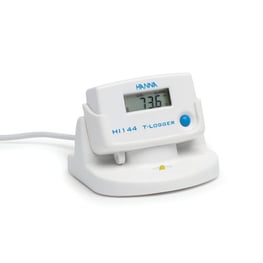 The T-Logger can store up to 8,000 measurements, and has up to 2 years of battery life. The locking wall cradle, when paired with the PC software, enables you to set the logging interval, high and low alarms, among other settings. The HI144-10 (the "kit" of the HI144 with the cradle and software) is HACCP compliant for temperature monitoring in food environments.
Temperature is the most tested scientific parameter in the world, and no wonder! Temperature affects everything from production, to preservation, to horticulture, and from storage to shipping.This meter has an included wall cradle to allow it to be installed just about anywhere. The Thermologger is able to run on the included AAA for up to 2 years before they need to be changed. The casing has an IP67 rating to help protect your meter from dust and water. Model flexibility allows for up to two channels, and internal and/or external sensors. The logged data can be viewed through the software.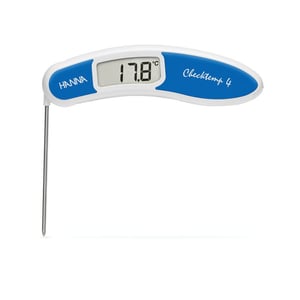 A wide range of temperatures, color-coded, and high accuracy - all in a small portable meter! Our folding thermometer was already a favorite, but now it is color-coded to meet HACCP regulations in commercial kitchens. Each color corresponds to a different food category: white is for dairy, red is for raw meat, blue is for raw fish, yellow is for cooked meat, green is for fruits and salads, and brown is for vegetables. The color-coding also is useful for the home kitchen, in order to keep cross-contamination minimal. The large LCD screen makes seeing measurements at a glance easy. The casing is designed to withstand real-life use - no need to worry about bumps, falls, or spills with this meter!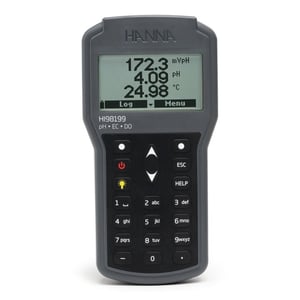 The HI98199 is a rugged professional and scientist grade meter meant to withstand the elements; from the factory floor to outdoors. This meter has a durable pH probe included, and can be expanded to have an EC probe and/or a DO probe. Automatic probe recognition helps to quickly and easily switch out each Quick Connect digital probe when out and about. The meter can store up to 45,000 records (logged on demand or continuous), and the dedicated HELP key means you can get tutorials anywhere! The universal USB-C port lets you transfer data seamlessly .
5. BL122 Swimming Pool & Spa Controller and Hanna Cloud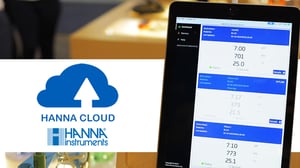 This pool and spa controller allows you to automate your pH and chlorine monitoring and maintenance. With the integrated cloud, you have 24/7 access to your pool controller. At the office? Away on vacation? You no longer have to worry about coming home to a discolored and unbalanced pool or spa. The two models allow for either in-line installation or a panel mounted installation. The automatic logging allows you to track pH, ORP, and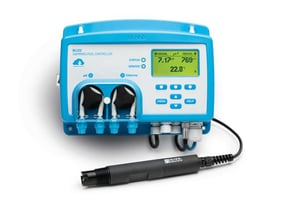 temperature values (as well as calibration data, configuration, and events). Events refer to alarm. The proportional dosing pump gives you sensitive dosing for chemical additions allowing you very tight control around your set point.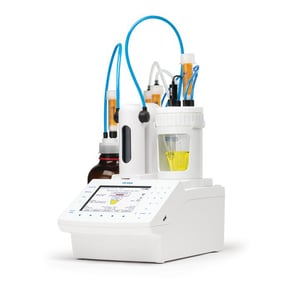 Water determination has never been easier with our HI933 Volumetric Karl Fischer Titrator. The compact design will save space in the lab without compromising your results. Cycoloy® gives a durable heat and chemical resistant body (it is stain resistant!). The buttons are a part of the display and the body is sealed, allowing for easy cleaning. The virtual keys are easy to navigate on the large LCD screen. The sealed solvent system helps to keep water out of the system, while giving you minimal exposure to the reagents.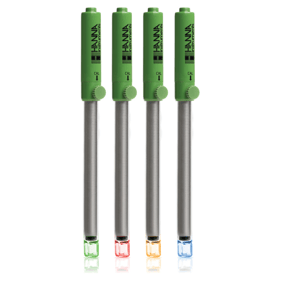 For when potentiometric endpoints aren't an option, our photometric electrodes can give you an optical endpoint for your titrations. Available in 4 wavelengths, (525nm green, 625nm red, 590nm yellow, 470nm blue) are designed to fit easily into your current electrode holders. The glass tip helps to prevent reactions with samples. The stainless steel body provides protection from electrical noise and ambient light. Since there's no fill solution, use is a breeze!
That's a wrap!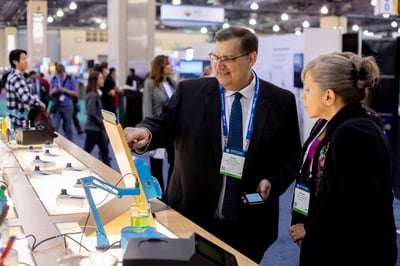 Pittcon 2019 was a whirlwind of innovation, and we cannot wait to see what the year holds! If you have any questions, please feel free to contact us using one of the channels below.

Written by Allison Ball
Allison graduated from Bryant University with a Master's Degree in Global Environmental Studies. She is passionate about nature, and how science is connected to the world around us. At Hanna, she provides an array of content and support to customers through the Hanna Blog, SOPs, and Data Sets.
Allison may be reached at ahubbard@hannainst.com.