Cutting Edge Innovation
New technology was everywhere this year at Pittcon 2020 as attendees and exhibitors alike gathered in Chicago. Did you happen to miss Pittcon this year or you need a quick refresher on what was there? Read on!

Not able to make it? Here's what you missed at Pittcon 2020.
The whir and beep of instruments abounded at Pittcon 2020, and we are excited to share some updates with you!
The Gauntlet
Our third year in the Pittcon Gauntlet found us busy, and having fun! We returned with the crowd favorite pH Shuffleboard Challenge where opponents could face off on the different sides of the pH scale for supremacy. Over 500 people came through the Gauntlet, and we had a blast!
Check out the new products we showcased at Pittcon 2020!
Coming Soon!


1. HI98494 Multiparameter Bluetooth® Portable pH/EC/OPDO® Meter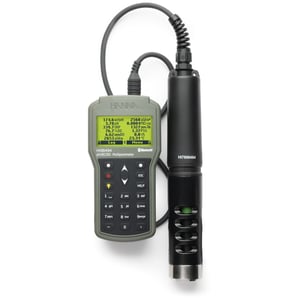 All of the features you know and love in our rugged portable meter line will be available in a brand new meter with Bluetooth® connectivity and an updated digital probe. The Bluetooth® connectivity is a nifty feature that will allow you to retrieve data logs with ease for data transfer via email, or to download to your chosen smart device. Besides the data transfer, the Bluetooth® will allow you to connect to the free Hanna Lab app. Through the app, the data transfer is a snap and you will be able to view current measurements in live time, GLP data, change measurement units, and graph your data to see trends over time.
The updated mulitiparameter probe allows you to have quick and simple sensor replacement. This probe also has an OPDO® optical dissolved oxygen sensor instead of the traditional dissolved oxygen sensor.
2. HI510 Universal Process Controller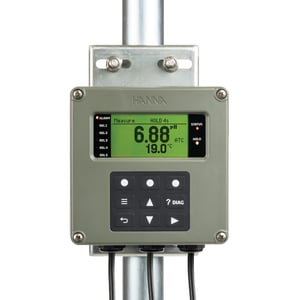 This universal process controller can control and/or monitor multiple processes across a variety of industries. An update with this controller are the digital probes. Digital probes have the benefit of being automatically detected by the meter; the parameter it measures and the probe itself. You can have up to five control and one alarm relay. The system can daisy-chain up to 32 devices to a remote monitoring system.
3. HI981412 GroLine pH Dosing System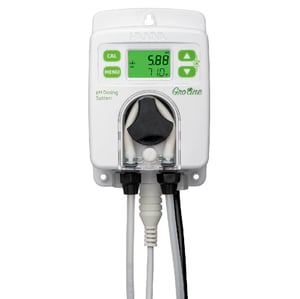 The HI981412 is a compact pH dosing system meant to help you be successful in the propagation and growth of your plants. This system can come as a meter and probe, and inline option, and as a complete kit for inline/flowcell (includes aspiration tubing with filter and a dispensing tube with injection valve). The screen gives you highly visible alerts with green meaning everything is as set, light green meaning that the system is not enabled, and flashing red means there is an alarm.
4. HI981413 GroLine Nutrient Dosing System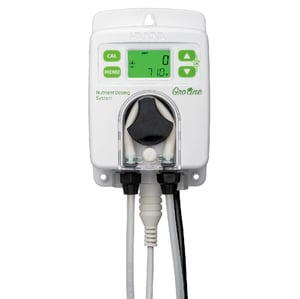 This nutrient system will help you maintain the optimal concentration of fertilizer in your nutrient solution. The small system uses an amperometric electrical conductivity (EC) probe, and the readings can be displayed as EC or as TDS (total dissolved solids). The quick connect probe gives you a waterproof seal around the connection, thus reducing potential probe issues.
5. BL100 pH Controller and Dosing Pump &
BL101 ORP Controller and Dosing Pump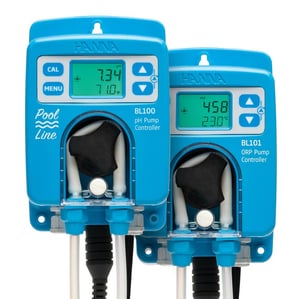 These compact pool controllers are able to maintain either the pH (BL100) or the ORP (BL101) of your pool and spa. The ORP controller is able to monitor and dose chlorine in order to keep the levels where they need to be for prime sanitization. The adjustable flow rate allows for dosing tailoring for the size of your pool and spa. This means less waste for you and keeping levels at the desired concentration.
6. BL122 pH/ORP Controllers with Hanna Cloud Connectivity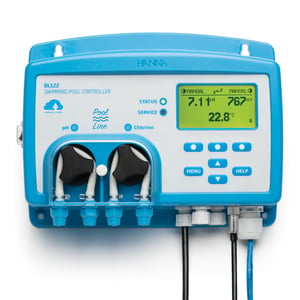 Keep your pool and spa at constant pH and disinfectant levels with the BL122. This combination controller allows for both pH and ORP monitoring and control in one device. New to the Hanna scene, this device comes with Hanna Cloud connectivity. The Hanna Cloud application is compatible with most web browsers and is able to be accessed across different devices. This allows you to monitor your pool, spa, or hot tub from anywhere, at any time.
That's all folks!
We're glad that you have taken the time to catch up on what you missed at Pittcon 2020, and we here at Hanna Instruments hope to see you next year at Pittcon 2021.

Written by Allison Ball
Allison graduated from Bryant University with a Master's Degree in Global Environmental Studies. She is passionate about nature, and how science is connected to the world around us. At Hanna, she provides an array of content and support to customers through the Hanna Blog, SOPs, and Data Sets.
Allison may be reached at ahubbard@hannainst.com.