Ensuring a Quality Brew and Cider Every Time
Wachusett Brewing Company are congratulated in having among the finest QA/QC labs in the craft beer industry. Located in Westminster, MA, the brewery and lab are equipped with top of the line instrumentation to produce star quality beers and ciders.
History of A Massachusetts Classic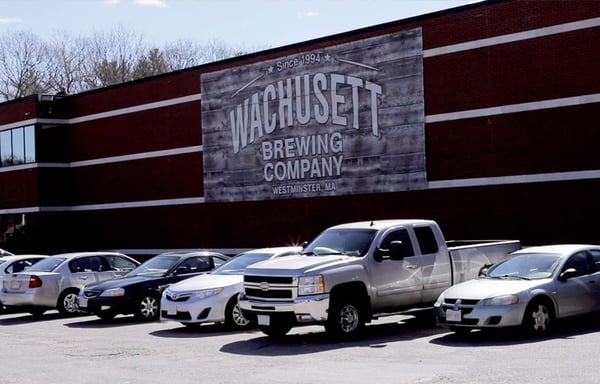 Back in 1994, three Massachusetts college buddies who shared a passion for craft beer founded Wachusett Brewing Company. The trios diverse backgrounds, including engineering and biology helped to catapult them into the beer industry. Wachusett Brewing Company is now a New England staple, and the brewery has grown to become one of the largest breweries in the area. A glance at their beer list shows line upon line of award winning brews.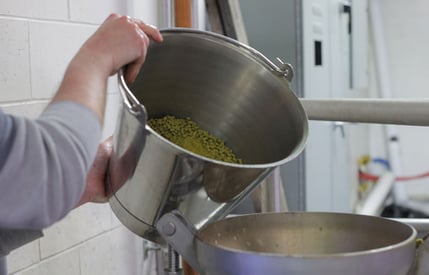 Excellence Has Always Been Key
Wachusett Brewing Company has consistently set a high bar on quality standards. This has resulted in a varied, successful, and consistent beer every time. To achieve these notable bevvies and standards, the brewery needed analytical scientific instrumentation to maintain and regulate their beer quality standards. Just as importantly, they needed instrumentation that was easy to use, reliable, and very accurate.
"Hanna has a huge variety of instruments and you can pick exactly what you need for your application. I think something that is great about Hanna Instruments is that they're so easy to use and they're a fantastic value for just the quality of information that you get from them, it's an easy choice."
-Cullen Dwyer,Quality Manager at Wachusett Brewing Company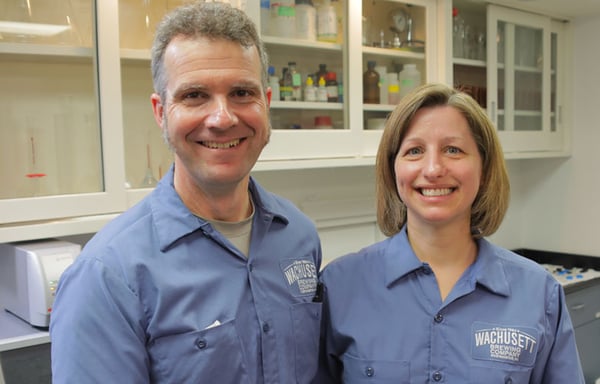 Pictured, the Wachusett Brewing Company Quality Team. (Left) Cullen Dwyer,
Quality Manager & (Right) Valerie Brock, Director of Brewing and Cellaring.

Making the Perfect Beer - Every Time
With an ever expanding repertoire, Wachusett Brewing Company utilizes a number of Hanna's analytical instrumentation during their beer and cider production. The Wachusett Quality Team depends on the following Hanna Instruments: Haze Turbidity Meter (HI847492), Dissolved Oxygen meter (HI98193), and the Sulfur Dioxide Mini Titrator (HI84500) in maintaining top quality in their beer and cider brewing.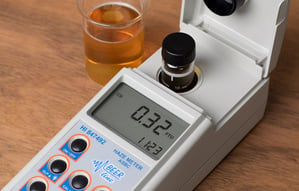 When creating their New England IPAs, Wachusett wanted to ensure that their customers had the same experience when having a pint of one of their IPAs. Hanna's Haze Meter allowed them to create a standard for the haze (also known as turbidity) of their IPAs. Thus, eliminating the visual haziness by eye, and creating consistency between batches of beer.
Wachusett found Hanna's Waterproof Portable Dissolved Oxygen Meter to be useful in monitoring the levels of dissolved oxygen throughout their brewing process. Able to monitor dissolved oxygen over a wide range, rugged, and waterproof, it was a perfect fit. They are able to test dissolved oxygen accurately whenever, and wherever they need to do so!
Wachusett Brewing Company is adding to their portfolio by branching out into hard cider and hard seltzer making. With the expansion of their beverage lines, there also needed to be an expansion in the lab. Though in this case, it was "mini". The Wachusett Quality Team added the Hanna Instruments Sulfur Dioxide Mini Titrator to their toolbox. The SO2 mini titrator allows for accurate titration of ciders, without the subjectivity of a color change. These crucial titrations enabled Wachusett Brewing Company to comply with Federal sulfite regulations in cider making.
The Perfect Pairing Makes A Difference
Just like the perfect beer and food pairing, Wachusett Brewing Company is synonymous with quality. Hanna Instruments, like Wachusett, prides ourselves on quality and providing the best experience to our customers. Brewing and instrumentation go hand-in-hand.
Got Questions?
For more information regarding how Hanna Instruments can help you with measuring your brews, contact us, as sales@hannainst.com or 1-800-426-6287.

Written by Allison Ball
Allison graduated from Bryant University with a Master's Degree in Global Environmental Studies. She is passionate about nature, and how science is connected to the world around us. At Hanna, she provides an array of content and support to customers through the Hanna Blog, SOPs, and Data Sets.
Allison may be reached at ahubbard@hannainst.com.