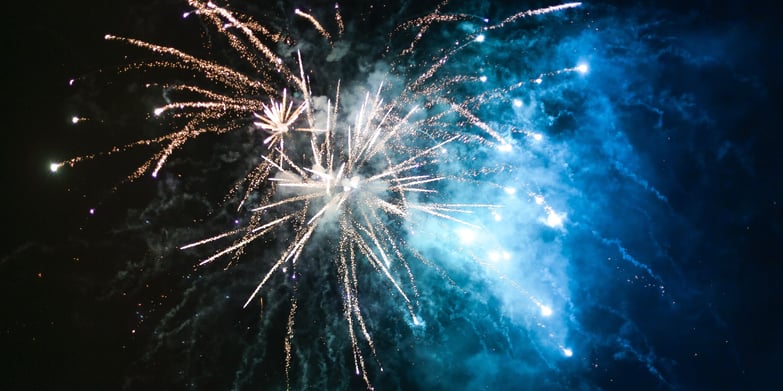 Happy New Year!
The team here at Hanna has had some time to reflect on 2016 and we couldn't be happier; we released new products, increased our educational library, and met a bunch of inspiring and interesting people. And that's just the tip of the iceberg.
To celebrate our success over the past year we've compiled a list of the ten most popular products of 2016. From beer brewers to environmentalists and educators, this list has something for every Hanna customer.
1. HALO Wireless pH Meter and the Hanna Lab App
Top Industries: Education, Food & Beverage, Lab
Priced between $160-$225, HALO Bluetooth wireless pH meters with Bluetooth technology (used with the free Hanna Lab app) give you professional-grade results at a price 50%-80% lower than portable and benchtop meters. It's easy to see why HALO was one of our most talked about products this year!
HALO is the world's first Bluetooth electrode, and it's come a long way in the past year. We make a number of both general purpose and specialized HALO electrodes; this gives practically anyone the ability to use HALO, from cheesemakers and salumists to universities, winemakers and brewers, aquarists and so many others, with even more features coming in 2017.
Not only did we upgrade the electrodes, but the Hanna Lab app is now also available to download for Android devices, in addition to Apple iOS, opening up the world of HALO to millions more people than before. Download it to your device now and try it in demo mode!
2. edge Wine pH Meter Kit
Top Industries: Wine, Lab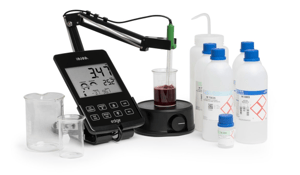 Beautifully designed and only half an inch thick, edge is revolutionary in its approach. But edge isn't just beautiful, it's versatile, too. edge can be used as a portable meter, mounted to a wall, or as a benchtop with the cradle and adjustable electrode arm. With edge we add function to form with simple operation and sophisticated features.
edge Multiparameter pH Meter - HI2020 is the most popular edge model. Its primary configuration is for pH testing, but it can be upgraded at any time with additional probes to measure conductivity (EC) or dissolved oxygen (DO).
The HI2020 meter can be specially upgraded for winemakers with the edge Wine pH Meter kit - HI2020W, which was one of our most asked about edge models of 2016. The kit includes the HI2020 (edge meter with wall mount, cradle, and electrode holder) plus a wine-specific electrode that is resistant to clogging, a special cleaning solution that removes wine stains and deposits, all necessary calibration and storage solutions, and a mini stirrer.
3. GroLine Waterproof Portable Meter
Top Industries: Hydroponics, Aquaponics, Agriculture
The GroLine HI9814 lets you measure pH, electrical conductivity (EC), temperature, and total dissolved solids (TDS) in parts per million (ppm), and is the ideal nutrient meter for a range of purposes in agriculture, horticulture, aquaponics, and hydroponics.
The HI9814 features our exclusive Quick Cal function, which can calibrate both pH and EC in about 30 seconds — a trait that no other meter in the agriculture market has. The GroLine meter also uses a single probe, is ergonomic and waterproof, and is the most accurate pH/EC/TDS meter in its class. It's no wonder it's one of Hanna's top selling meters!
The HI9814 can be upgraded to a full kit, the HI9814K, which includes the GroLine meter plus everything you need to start testing the second you open the box: Quick Cal solution, electrode storage solution, and the green shock-proof rubber boot.
Honorable Mention
Looking for something simpler? Check out the GroLine Hydroponic Waterproof Pocket pH/EC/TDS/Temperature Tester - HI98131.
4. Handheld pH Testers
Top Industries: Education, Food & Beverage, Agriculture, Aquariums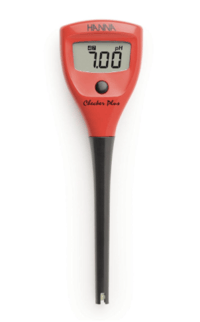 Our handheld testers come in a variety of styles and functions, so there's a model for everyone.
The classic red Checker Plus pH Tester - HI98100 (pictured) is great for anyone who needs to test pH, but is especially useful in a classroom setting due to its affordable price, ease-of-use, and durability. The Checker Plus is the next generation of the original Hanna Checker pH tester – the most popular pH meter in the world with over one million used since its introduction in 1991.
Waterproof testers are another great option for testing a variety of parameters in water, beverage, soil, and more. Not only are they easy to use, affordable, and durable, you also don't need to worry about dropping them in your fish tank or beer vat! Compare all of our waterproof testers to find one that works for you.
Another Hanna classic is the pHep5 pH/Temperature Tester - HI98128, an advanced pH meter that has many features found in more expensive portable and benchtop meters. It features automatic one or two-point calibration, automatic temperature compensation, a large multi-level LCD display, stability indicator, and a replaceable pH probe that has a unique extendable cloth junction to clear any clogging that may occur.
5. Checktemp Thermometers
Top Industries: Food & Beverage, Aquariums, Environmental, Water & Wastewater
Our Checktemp thermometers are known for being accurate above all else. With an accuracy of ±0.2°C/±0.5°F, it's clear to see why everyone from food producers to aquarists relied on Hanna in 2016 for testing this critical parameter.
There's a Checktemp for every testing need, and Hanna offers a range of thermometers, from sophisticated specialist models to general use ones. We make thermometers that come in either Celsius or Fahrenheit; the HI98509 (pictured) with a sharp-tipped probe for solids, liquid, air, and frozen materials; and the HI98539, a dip thermometer connected to a weighted, stainless steel probe great for use in tanks, vats, streams, and lakes.
The star of the show, however, is the trusty Checktemp Digital Thermometer - HI98501. The HI98501 is a small, easy-to-use, incredibly accurate, and affordable thermometer that measures in both Celsius and Fahrenheit and offers no breakage, waste, or difficulty in reading. Like all of the Checktemp models, The HI98501 has our exclusive CAL Check feature which verifies calibration on start-up with just a touch of a button.
6. Mini Titrators
Top Industries: Food & Beverage, Water & Wastewater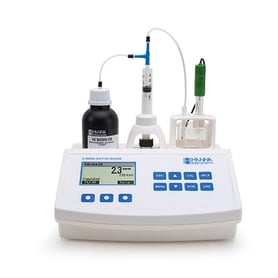 Available exclusively from Hanna, mini titrators make the accuracy and time-saving benefits of automatic titration affordable to more people and businesses. Mini titrators are a great alternative to expensive outside lab testing and time-consuming manual titration.
Our mini titrators can be used for testing drinking water, wastewater, dairy, and juice, but winemakers were the ones who were most excited about the minis in 2016. Our most popular ones this year were the Mini Titrator for Measuring Sulfur Dioxide in Wine - HI84500 and the Mini Titrator for Measuring Titratable Acidity in Wine - HI84502. (See all our titrators HERE.)
The minis, along with the free wine eBooks and videos our team has created and compiled this year, gave many small business owners and home winemakers the tools needed to improve and simplify their testing methods.
7. Checker HC (Handheld Colorimeters)
Top Industries: Aquariums, Water & Wastewater
Most of the Checkers are for testing various parameters in water samples (but don't forget about the maple grader!), with our most popular ones being the Marine Checker line for testing in saltwater aquariums.
The Checkers' one-button design makes testing a breeze while eliminating the subjective readings of traditional color-change test kits. Basically, we took the technology of an expensive, professional meter and put it into a small, simple, colorful, and affordable ($49) handheld device.
In addition to the Marine line, there are Checkers for testing drinking water, pools and spas, wastewater, and more. Click here to see all 37 Hanna Checker HCs and find one that works for you.
8. Professional Waterproof Portable pH/ORP/ISE Meter
Top Industries:

Plating, Water & Wastewater, Chemical Manufacturing, Environmental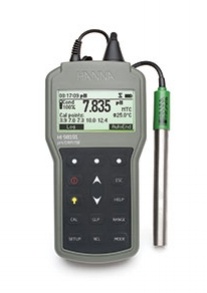 The Professional Waterproof Portable pH/ORP/ISE Meter - HI98191 is anything but small and cute. The HI98191 is a rugged, portable meter with the performance and features of a benchtop that complies with all IP67 standards.
The HI98191 makes testing in the field, at wastewater and water treatment plants, and in other industrial locations much simpler. Everything needed to test, calibrate, and store the meter comes in the handy, durable carrying case so that you're never without the essentials, no matter where you are. The meter also features our unique CAL Check system, which alerts you to any potential problems during the pH calibration process.
The pH probe included with the HI98191 is the HI72911B titanium body pH electrode with a built-in temperature sensor for automatic temperature compensated readings. The titanium body is chemically resistant to aggressive chemicals and is virtually unbreakable. For anyone who needs a rugged, dependable, and long-lasting meter, the HI98191 is it.
Honorable Mention
Is the HI98191 not exactly what you're looking for? Check out the whole series HERE.
9. Digital Refractometers
Top Industries: Food & Beverage, Pharmaceutical, Environmental
By knowing the refractive index of a substance, you can understand such properties as the sugar content of wine must or juice, the amount of salt in food, the salinity of a body of water, and more. With so many different testing possibilities, it's clear to see why users in a variety of fields all find our refractometers useful.
Digital refractometers are an ideal solution for those looking to measure the composition of their products. Characterizing a substance is quick and easy with any one of our refractometers, and analysis only requires a small drop.
The design of our digital refractometers, with a stainless steel well, provide great chemical resistance, and make them easy to clean and calibrate. With all this plus a built-in temperature sensor and a speedy 1.5-second response time, you can be sure to get accurate measurements.
10. Accessories & Solutions
Top Industries: All of Them!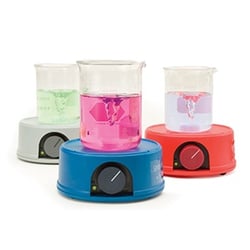 2015 was the first full year of our online shop being open. In 2016, we loved seeing people coming back to the site looking for more accessories to add to their instrumentation. This makes us happy because not only are our customers pleased with their products, they're getting a lot of use out of them!
Some of the most important things to keep on hand when using any meter with a probe is your storage and calibration solutions. (It's so important, in fact, that four out of our ten top mistakes in pH measurement involve calibration and/or storage.) And of course, there's no way to titrate without titrants or use your Checker HC without reagents.
We also found people were upgrading their equipment with additional probes, magnetic stirrers, and other accessories. This means our customers and their hobbies and businesses have expanded and evolved in 2016. For that, we couldn't be prouder.
Thank You
We want to thank all of our customers who supported us in 2016. Whether you just started using Hanna this year or have been a loyal customer since our first days in 1978, we appreciate you and look forward to growing and working with you in 2017 and beyond.
© 2016 Google Inc. All rights reserved. Google Play and the Google logo trademarks of Google Inc.
© 2016 Apple Inc. All rights reserved. Apple Store and the Apple logo are trademarks of Apple Inc.

Written by Hanna Instruments
As a leader in innovation Hanna Instruments developed the HALO Wireless pH Meter, which uses Bluetooth Smart Technology to connect to Apple and Android devices running the Hanna Lab App.
Continuing with this tradition, the Hanna Instruments Blog is devoted to sharing the latest in product overviews, how-to guides, and industry specific news to our ever-growing audience.
Contact us at sales@hannainst.com.