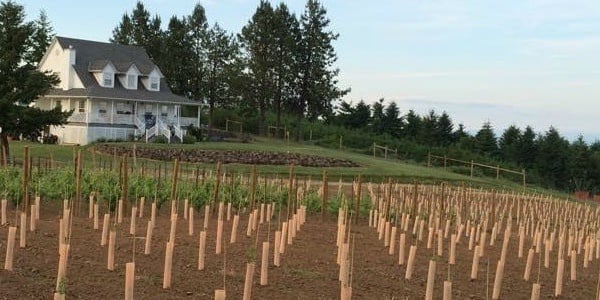 I decided it was time to step up to a real pH meter when going into commercial wine production after more than fifteen years of wine making as an amateur. Up to now, I used a series of stick-style handheld pH meters to help me with my hobby wine endeavors.
Time to move up to research-grade analysis.
We're planning to open a small, commercial winery, and our analysis needs have grown with those plans. Our winery currently has nine full barrels and several steel tanks. A high-quality meter that can be with you as you move around the winery is more than a luxury, it's a necessity.
In the past, I have used the portable, stick-style mini-meters. They always worked great right out of the box, but I struggled with calibration after they had some age to them.
I ran into the Hanna team at the Institution of Food Technologists Conference. After explaining my background and my budding commercial wine making operation, they offered to send me a edge® pH Wine Kit - HI2020W in return for a pH meter review.
A perfect opportunity for me to get my hands on the latest analytical technology!
The Arrival
The meter and the rest of the kit arrived safe and sound, and everything got unpacked. It was nice to be reminded that the kit came with everything I needed - even a sturdy magnetic stirrer.
The first chore was to charge up the battery. I plugged everything in and planned on giving it a good test drive the next day in preparation for my edge pH meter review.
The edge Meter
edge is a new-age, super-sophisticated pH meter designed for a lot of different applications.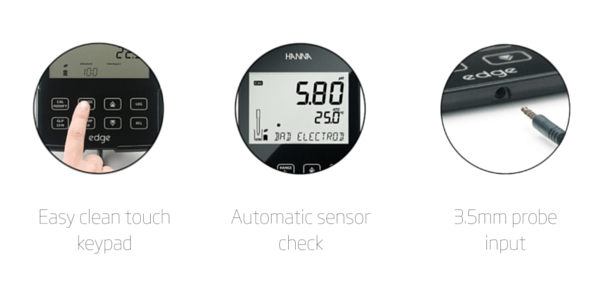 There are three work modes:
Benchtop
edge can sit on a benchtop stand with a spring-loaded probe holder, so if you have any kind of laboratory and do benchtop pH testing, it will work great in that application.
Wall mount
The meter can be used in a handy wall-mounted cradle, keeping your benchtop free of one more piece of equipment – a good space saving alternative! The wall cradle also serves as a battery charger.
Portable
edge is fully portable; it can be taken out of the cradle and run on battery power as a handheld meter.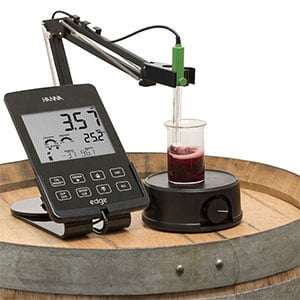 Usability
The body of the meter is really sleek. It's about the size of a mini-tablet and is only 0.5" thick.
There are a series of multi-function touch keypad below a 5.5" LCD screen. The keypad is a part of the screen, so there are no buttons with cracks or crevices to allow dirt or liquid to seep into. An accidental benchtop spill can be wiped right off the surface.
Data
edge is not only portable, but has internal memory that can store up to 1,000 readings. Each log includes the pH reading, GLP data confirming proper calibration and function, and the date and time when the measurement was made.
The meter also has two USB ports, so your measurements can be stored electronically and downloaded. Data can either be downloaded to a memory stick or directly to your computer or tablet.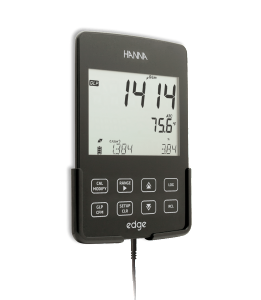 Use as a Portable
The spec from Hanna says that you can run it for 8 hours straight without a charge. So in mobile mode, it could easily be used in any size winery, or be great for anyone who does field testing – e.g. water quality sampling.
I couldn't use the meter continuously enough to make a dent in the battery.
It's easy to carry, as well – not quite small enough to fit into your pocket, but light enough (about 9 ounces) to easily carry around with you.
Calibration
One of the unique capabilities of this very smart meter is that most of calibration is done for you with the CAL Check system.
First, edge will tell you if it needs calibration when you turn it on, and then it will automatically recognize which buffer the probe is immersed in during the calibration process.
Another great feature is being able to calibrate your meter with up to five different pH values; one of the Hanna pH buffers is at a pH of 3.0. I really like having that standard. Since most wine pH values are going to be between 3.2 and 3.8, it's great to know that your pH meter is calibrated to standards flanking those values, and not just at the conventional 4, 7, and 10 values.
Calibration takes just a couple of minutes to reach your desired standards. edge's CAL Check system even warns you if your calibration buffers are contaminated or if the probe is dirty!
Wine-Specific Probe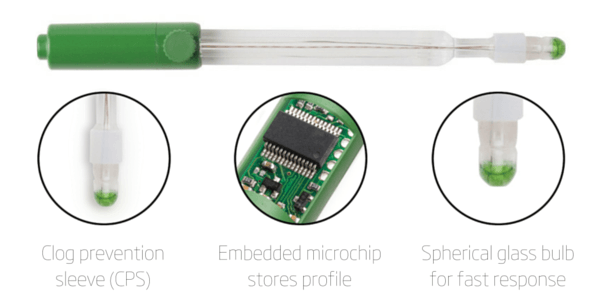 The Digital Glass Body pH Electrode with Clogging Prevention System - HI10480 is an upgrade to the standard HI11310 probe, but it is included in the HI2020W wine pH kit.
It features a special Clogging Prevention System (CPS) that prevents suspended solids from blocking the junction (the channel for electrolyte to flow).
According to Hanna, the CPS sleeve means that the HI10480 electrode will resist clogging up to 20x longer than standard electrodes. This special feature would also be important to brewers, as well. I am counting on this probe lasting longer between cleaning than the probe that comes with the standard package would.
This probe has a built in temperature sensor, allowing the meter to adjust your pH readings to standard conditions.
In the winery, this can make a difference when you are reading your wine pH values at or just after fermentation (when they are likely to be warmer) versus in the middle of the winter, when wines in barrels or tanks might be at around 55°F.
This probe, like all probes for edge, has a built-in microchip that stores sensor type, serial number, and calibration information. What this does for you is it allows the meter to instantly recognize which probe it is connected and when calibration needs to be performed.
One other thing I liked was that the probe does not use one of those clunky BNC plug connections that I find get oxidized over time, but instead use a small 3.5mm audio-style jack. These plugs are easy to keep clean and a snap to connect.
Other Tests
I decided not to get a dissolved oxygen probe yet. However, the edge meter makes it easy to switch back and forth between two or more different "smart" probes. When you do switch probes, you can use both on the fly without having to recalibrate. This is possible due to the built-in microchip. Besides pH and dissolved oxygen, there's also a third probe, which measures conductivity.
Reliability
I set up some tests to evaluate the function and reliability of edge pH meter.
If you use the meter to take a series of measurements, and then set it down, it will automatically power down after a designated interval to save battery power.
If you turn it back on to continue use, your prior calibration is still in effect, so you won't need to calibrate it again. I went through all of our wine samples, measuring the pH of all of them. The meter takes a few seconds to stabilize and then indicates to you the final pH value and the temperature.
I then set the meter down for two weeks, and turned it on to measure the same set of samples. The meter called out to me that it was time to calibrate again. I timed the calibration process, and it took just a couple of minutes from start to finish.
After going through all of my samples this second time, I checked the results; all of my measurements were either exactly the same, or different by only ~0.01 pH unit!
Clearly,this level of sensitivity and reproducibility is sufficient to accurately see your pH increase, and then stabilize, as a wine goes through malolactic fermentation.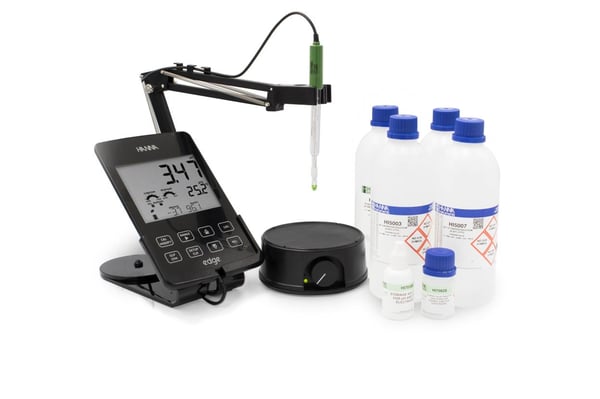 Overall
I really enjoyed using this product, have a lot of confidence in my measurements, and plan to obtain a dissolved oxygen probe sometime soon.
edge HI2020 is priced at $409 which includes the pH Electrode for General Purpose - HI11310, a benchtop cradle with electrode holder and wall mount.
The HI2020W pH wine kit upgrades the probe to the specialist pH Electrode with Clogging Prevention System - HI10480 and includes all the required buffers and solutions and aa bonus magnetic stirrer for $599.
The meter comes with a 2-year warranty, and the probe is warranted for 6 months.
Hanna stocks all buffers, alternative probes for other uses including conductivity and dissolved oxygen, calibration buffers, and probe cleaning and storage solutions needed for their products.
About the Author
Neil Shay has a PhD in biochemistry and has supervised a federally funded research program in academia for over 20 years. In 2016, Neil and his wife Sue are opening a winery in Oregon.

Written by Hanna Instruments
As a leader in innovation Hanna Instruments developed the HALO Wireless pH Meter, which uses Bluetooth Smart Technology to connect to Apple and Android devices running the Hanna Lab App.
Continuing with this tradition, the Hanna Instruments Blog is devoted to sharing the latest in product overviews, how-to guides, and industry specific news to our ever-growing audience.
Contact us at sales@hannainst.com.