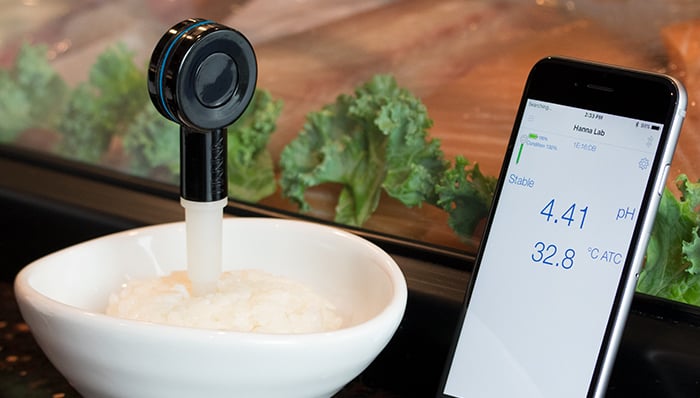 You already use your Smartphone for everything else, so why not a pH meter?
The average price of a laboratory grade pH meter is $650-1000. Hanna Instruments' HALO Bluetooth electrode gives you the accuracy and performance of an expensive, professional pH meter for the cost of a single electrode – because you use your smart device as the meter! For schools, home users, and small business owners, choosing HALO is practically a no-brainer.
Any small batch beer brewer or winemaker, educator, or aquarium hobbyist knows that a quality pH meter is an essential tool. However, finding a quality meter that fits into most people's budgets can be a challenge. But with Hanna's HALO - the world's first Bluetooth pH electrode - we're solving this problem.
The HALO Bluetooth electrode range along with the free Hanna Lab App means that you don't have to compromise any more.
You Have a pH Meter in Your Pocket Right Now
Traditionally, a pH meter and an electrode have to be purchased together, adding to the expense. With HALO, the only thing you need to buy is the Bluetooth electrode. After downloading the free Hanna Lab app, your iOS or Android device instantly becomes your meter. Now pool owners, hydroponic gardeners, hot sauce makers - anyone with a smartphone or tablet - can apply laboratory grade technology to their analysis.
And laboratory grade means better accuracy, faster results, and longer lasting electrodes.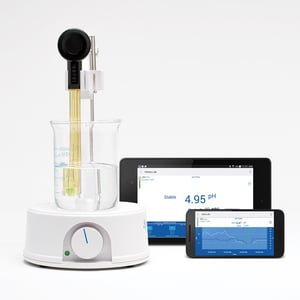 The HALO and Hanna Lab App change everything when it comes to the accessibility of laboratory grade pH testing. These are the four main reasons why:
1. We Made HALO

®

Affordable!
The HALO electrodes range in price from $160 to $225 – that's 50-80% less than an equivalent pH meter and electrode combination. The Hanna Lab App is free to download and use on any Apple iOS or Google Android device.
Turning your smart device into a laboratory grade meter truly is for everyone. With the affordable purchase cost, and the low cost for maintenance, every person from home user to a professional team, can use the meter.
If you want to test drive the Lab App before purchasing your HALO electrode, you can watch the video clip below, or download it and try it out yourself in demo mode.
Video: Hanna Lab App in Demo Mode (30 seconds)
2. It's REALLY Easy to Use
The R&D team at Hanna designed the HALO electrode to specifically be user friendly.
See it in action:
Video: HALO and the Hanna Lab App (90 seconds)
In two simple steps you can get your HALO up and running.
Step 1: Download the app.
Step 2: Connect your electrode with the easy one-button connection.
Once the Hanna Lab App is installed on your device, press the central button on your electrode to enable discovery. Then select your electrode in the app menu to complete synchronization.
Once connected, the electrode immediately begins sending data to the Lab App. HALO allows measurements to be taken at a range of up to 32 feet (10m).
3. You Get Laboratory-Grade, Application-Specific Electrodes
There are no compromises with the HALO electrode range. Our electrodes are engineered to the highest standards, incorporating top of the line materials and technology. EVERY industry can use a HALO® electrode. From food scientist to pool maintenance crew, there is a HALO® for you!
Features include:
Temperature Compensation
Built-in temperature compensation gets you the correct result without any additional effort or temperature sensors.
Application-Specific Electrodes
Not all electrodes are created equal. The HALO family has a variety of electrodes designed for optimal performance in all applications. Check out the table below to see which one is right for you!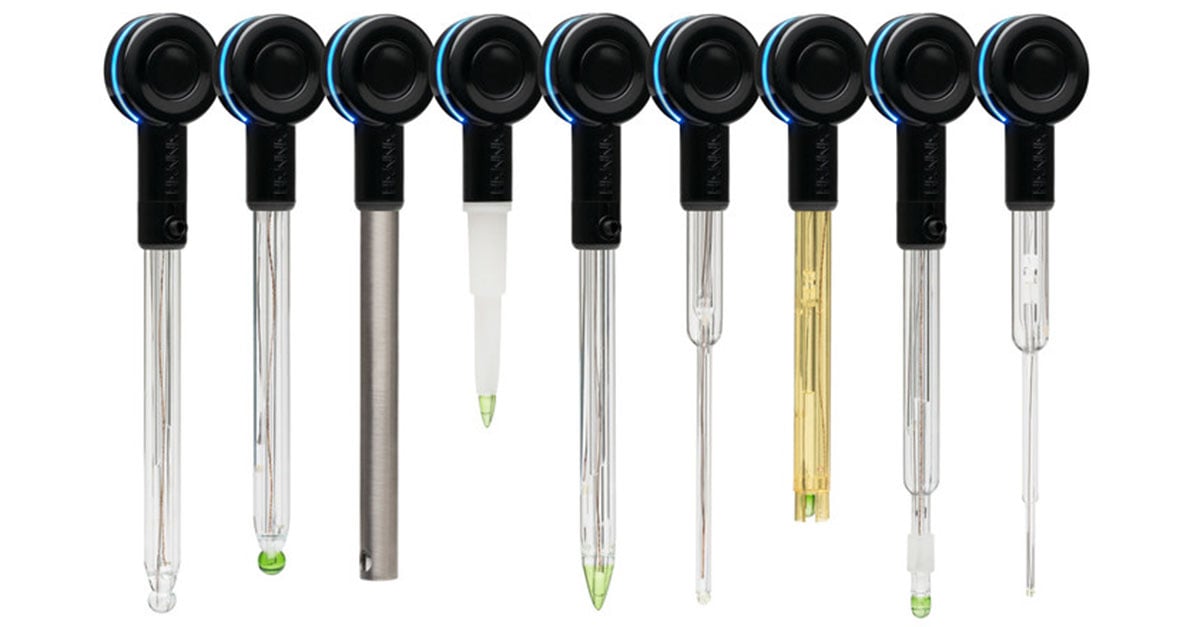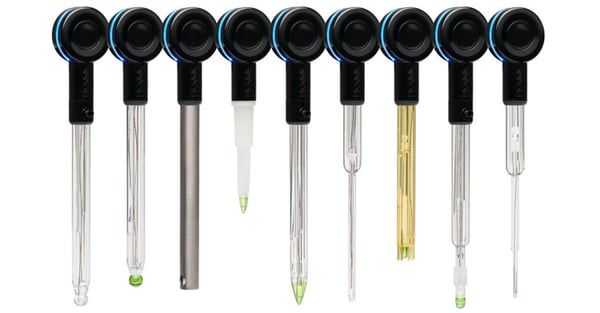 HALO Electrode
Key Features
Benefits
Great For
HI11312

Spherical tip, refillable, double junction

Easy-to-clean, faster results in liquids, less likely to clog

General purpose, laboratories, beer, pools & spas

HI11102

Spherical tip, gel-filled, double junction

Faster results in liquids, low-maintenance

Education, general laboratory use, environmental testing, pools & spas

HI2142

Flat tip, titanium body, cloth junction

Durable body for rough environments, easy to clean

Mash, wort, and finished beer

FC2022

Conical tip, food-grade PVDF body, viscolene gel-filled

Better results for direct measurement semi solids, emulsions

Food applications

HI12922

Triple ceramic junction, conical tip, low temperature glass

Fast stabilization at low temperatures, easy penetration into semi-solids and emulsions

Soil

HI12302

Spherical tip, gel-filled, durable PEI body

Long-lasting, low maintenance, shielded from accidental breakage

Education, field testing, pool & spas

HI10532

Conical Tip, triple ceramic junction, low temperature glass

Better accuracy at low temperatures, designed for use in solids, semi-solids, and emulsions

Food

HI10482

Clog-resistant sleeve junction, refillable, high-flow junction

Extra protection from clogging keeps the electrode functioning up to 20x longer. Fastest response time.

Wine/must, sauces, juices, beverages

HI4142

Flat tip, open junction, low temperature glass

Optimal surface area for testing flat surfaces, solid gel interface (impermeable to clogging)

Lab, flat surfaces

HI13302

Spherical tip, tapered body, low temperature glass

Ideal for small spaces and volumes, fast response and accuracy at low temperatures

Lab, vials, test tubes

HI10832

3 mm micro bulb tip, general purpose glass

Measurement in as little as 100

µL, best response over entire pH range

Lab, 96 well plates, centrifuge tubes
Hanna Tip: Still not sure what kind of electrode is best for you? Check out our comprehensive guide, Getting to Know Your pH Electrode.
4. The Lab App Functionality is Unparalleled
The capabilities of the Hanna Lab App exceed the functionality of most research-grade benchtop meters. Among other things, the app includes automatic calibration, probe monitoring, powerful logging features, and integrated help.
Calibration
Calibration is easier than ever with HALO and the Hanna Lab App. Calibration may be performed up to five points with seven standard buffers (1.68, 4.01, 6.86, 7.01, 9.18, 10.01, 12.45).
To calibrate, submerge your probe into the buffer while stirring (the app will automatically identify which buffer you are using from a list of NIST or Hanna buffer sets). Then tap Confirm Buffer to save the data.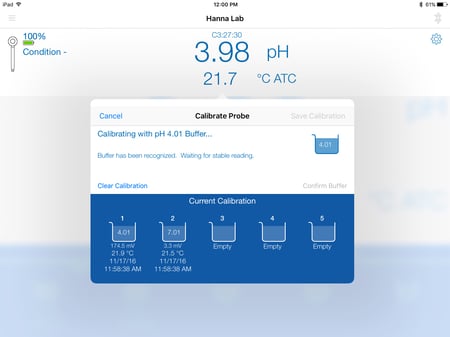 Once calibration is complete, you never need to worry about losing it if the probe becomes disconnected. All HALO probes store the calibration in the electrode, and calibration data is synchronized when the electrode is connected to your device.
Probe Condition Reading
Calibration allows HALO to display a probe condition percentage in the top left of the screen. This percentage gives you an at-a-glance way to determine your electrode's performance. A drop in condition between calibrations can alert you to problems such as a dirty or broken probe or a contaminated pH buffer.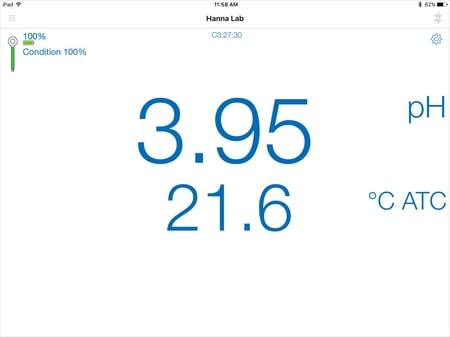 Hanna Tip: Print out our pH Electrode Maintenance Guide and our ph Best Practices Guide to help you keep your probe in perfect working order.
Built-In
Good Laboratory Practices (GLP)
Calibration information is available for viewing directly and is displayed using the Good Laboratory Practices (GLP) view. This includes the electrode slope, offset, and condition. GLP data isautomatically tagged to logged readings.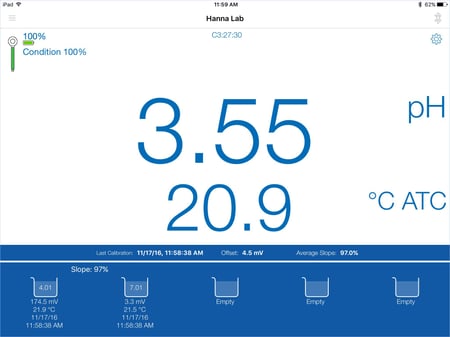 Automatic Logging and Charting
Logging on the Hanna Lab App is easy and intuitive. Once connected, measurements are recorded automatically every second. The app can display pH measurements in graph or table format which allows you to identify trends in data easily.
You can even keep notes by annotating your data by pressing the button on the electrode or tapping the electrode icon in the app. A window will pop up and you can then write a short note about the data.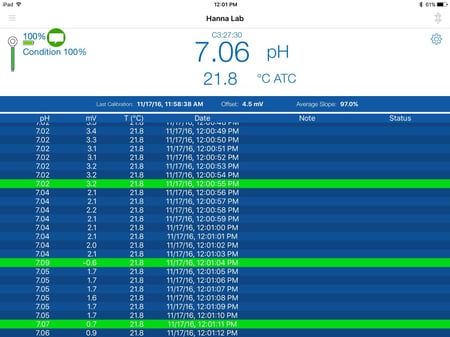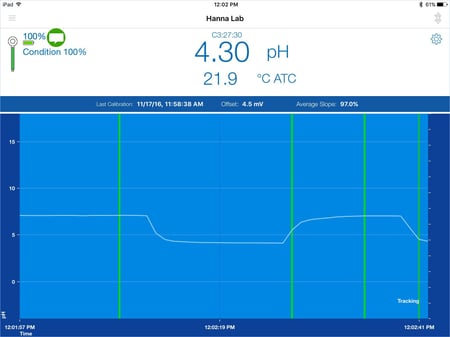 Once the data is collected, you can export the results and GLP data through email. You may choose to send only annotated data or the entire data set as a CSV file. Intervals are available to retrieve data within a specific time range.
In-App Help
The Hanna Lab App offers a built-in database of best practices in pH theory, measurement, and maintenance. Tapping Help in the left side menu lets you view this database.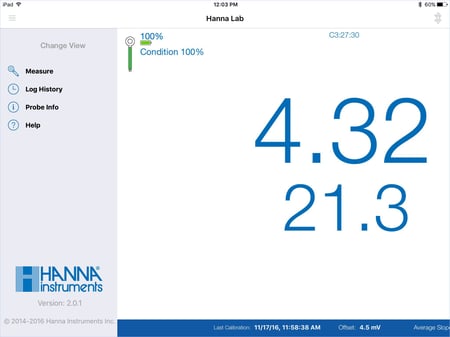 Are you ready for a HALO of your own? You already carry your smartphone everywhere, so HALO is making pH measurement easier than ever.

Hanna Tip: Don't own a smartphone or tablet? HALO also works with our edge blu Bluetooth Smart pH Meter - HI2202
Need more info? Watch the in-depth video below (8 minutes):
© 2016 Google Inc. All rights reserved. Google Play and the Google logo trademarks of Google Inc.
© 2016 Apple Inc. All rights reserved. Apple Store and the Apple logo are trademarks of Apple Inc.

Written by Hanna Instruments
As a leader in innovation Hanna Instruments developed the HALO Wireless pH Meter, which uses Bluetooth Smart Technology to connect to Apple and Android devices running the Hanna Lab App.
Continuing with this tradition, the Hanna Instruments Blog is devoted to sharing the latest in product overviews, how-to guides, and industry specific news to our ever-growing audience.
Contact us at sales@hannainst.com.