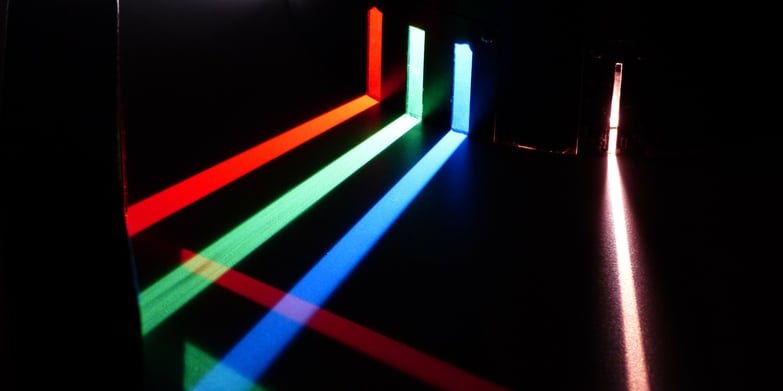 Refractive index is a measurement of how light behaves as it passes through a sample. Depending on the sample's composition, light will refract and reflect differently. This is used mostly to determine the quality or consistency of a product. By measuring this activity with a linear image sensor, the sample's refractive index can be assessed and used to determine its physical properties such as concentration and density. But the issue lies in each users perception of what they see, allowing for a lot of user error. So, how does one measure the Refractive Index accurately?
Hanna Instruments is pleased to announce the release of the new Digital Refractometer for Refractive Index and Brix - HI96800. Hanna's new HI96800 Digital Refractometer measures Refractive Index and displays results in both temperature compensated (nD20) and non-temperature compensated (nD) formats on the dual-level LCD screen. The HI96800's intuitive layout and pinpoint accuracy ensures effortless operation and reliable readings every time.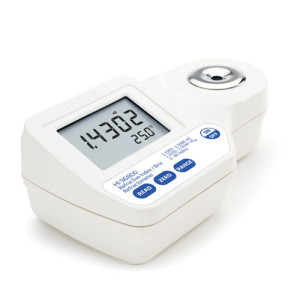 Variations in temperature will affect the accuracy of refractive index readings, so the use of temperature compensation is highly recommended for reliable results. The HI96800 contains a built-in temperature sensor and is programmed with temperature compensation algorithms in accordance with the ICUMSA Methods Book Standard for a percent by weight sucrose solution at 20°C. These compensation algorithms vary based on the parameter being measured. The user can switch between temperature compensated (nD20), non-temperature compensated (nD) and temperature compensated % Brix readings by pressing the 'Range' key while in measurement mode.
The HI96800 also converts Refractive Index to % Brix with the push of a single button making this instrument suitable for the wine market. Pharmaceutical, food, and environmental industries can also benefit from this refractometer as a way to indicate the quality and consistency of their products.
Hanna Instruments offers a variety of digital refractometers for an assortment of industries including:

Written by Hanna Instruments
As a leader in innovation Hanna Instruments developed the HALO Wireless pH Meter, which uses Bluetooth Smart Technology to connect to Apple and Android devices running the Hanna Lab App.
Continuing with this tradition, the Hanna Instruments Blog is devoted to sharing the latest in product overviews, how-to guides, and industry specific news to our ever-growing audience.
Contact us at sales@hannainst.com.