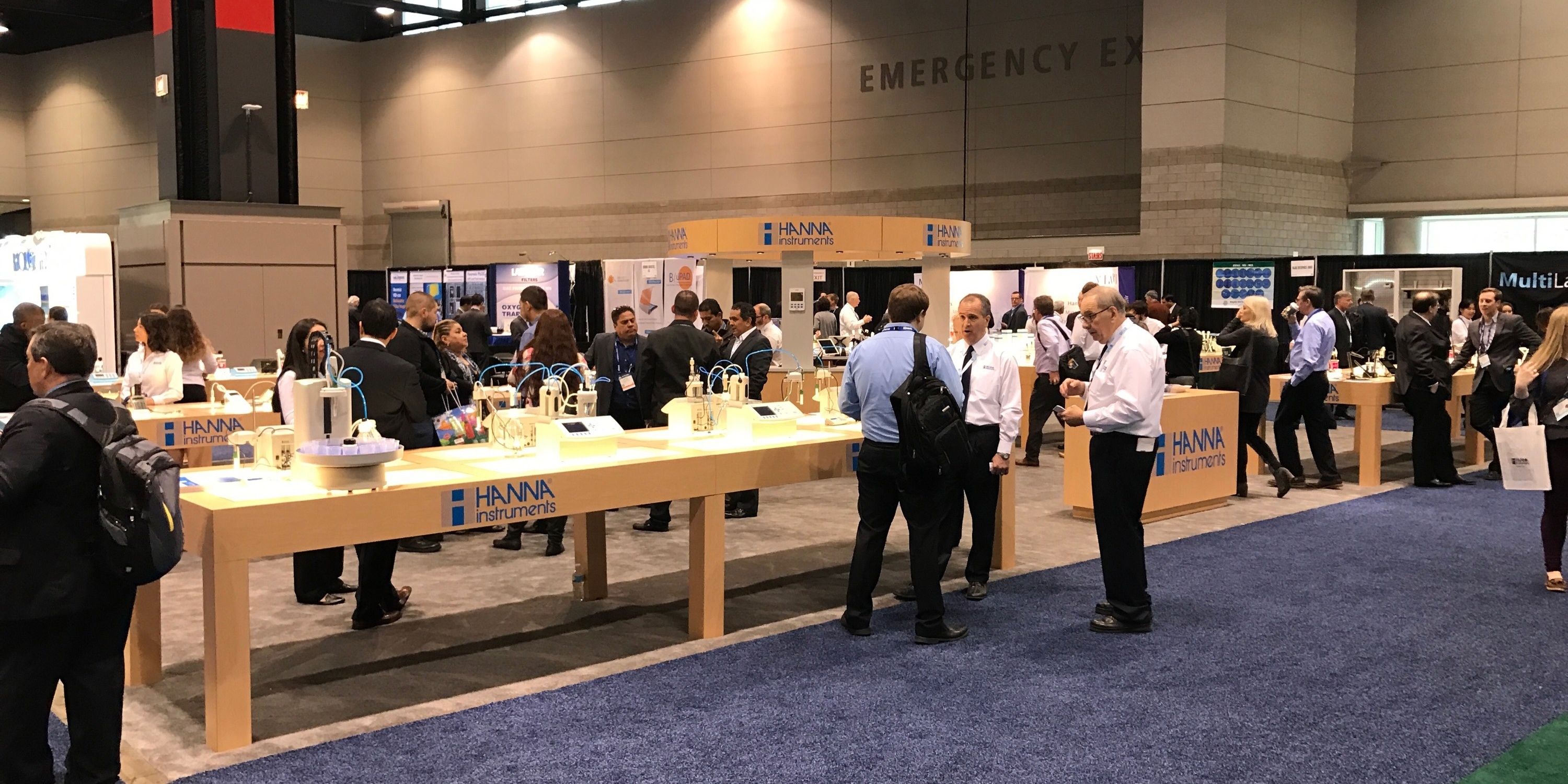 At Pittcon this year, we encountered a lot of people looking for new instruments to fit their needs. Because of the variety of products we offer, we were able to help a lot of people and answer a lot of questions!
Many people had similar questions about certain products. Here is a list of the seven most common products that we were asked about this year:
1. Micro pH Electrodes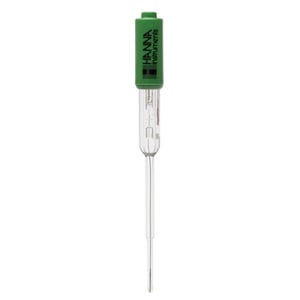 We met many people who needed a pH electrode to use in either small samples or in test tubes and vials. Depending on how small the sample is and what size their measuring container is, we offer a few different options.
One choice for very small samples and spaces is our HI1093B micro bulb pH electrode. This electrode has a tip that is only 3mm in diameter and can be used in samples as small as 100µL. The small size makes it perfect for measuring in 96 well plates or other small volume applications.
Another slightly larger option is our HI1330B pH electrode. Featuring a 5mm tip and a tapered body, the HI1330B is great for using in slim test tubes and vials.
2. Automatic Titrators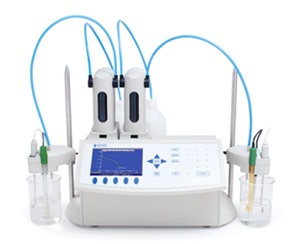 We offer a wide range of automatic titrators that can accommodate different needs, from mini titrators, each dedicated to specific measurements, to larger, more expandable models.
When it comes to the high performance automatic titrators, people can often become confused as to which would be the best for them. Your testing needs will often dictate what titrator would be best for you, as they are not a "one size fits all" option.
Hanna Tip: For more information on choosing a titrator check out our blog post: Which kind of Automatic Titrator is Best for You?
Titrators that we received the most questions about were our HI901C Automatic Titrator and our HI902 Advanced Automatic Titrator. Many of the people asking about our automatic titrators had been previously doing manual titrations but were looking for a way to achieve better accuracy.
The HI901C Automatic Titrator is an automatic titrator that excels when dedicated to a single use, featuring high precision as well as the ability to perform titrations for a variety of methods or samples. Our unmatched 40,000 step dosing pump is capable of dosing extremely small volumes of titrant to help you achieve a very precise endpoint for greater consistency.
Our HI902 Advanced Automatic Titrator features advanced technology for even higher precision and productivity during your most complex tests. The ability to customize the HI902 titrator with one or two burettes or analog boards, and the ability to pair it with our autosampler, makes this a flexible instrument that can adapt to a variety of needs. From environmental labs to wineries, the HI902 Advanced Automatic Titrator is a great option for any lab that requires a more advanced solution at the push of a button.

3. Autosampler Systems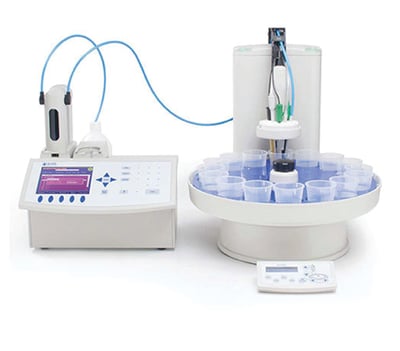 The HI921 Autosampler Titration System takes automatic titrations to the next level, providing the most accurate results with the least amount of effort. This autosampler system is ideal for laboratory professionals who have high-demand analyses and require consistency throughout. The autosampler system automates up to 18 consecutive samples to increase sample throughput without requiring analysts' valuable time.
4.
HALO Wireless pH Meters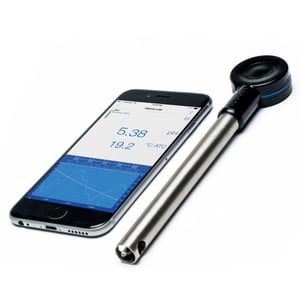 The first of its kind, our line of HALO Wireless pH Meters turn your smart device into a laboratory grade pH meter. Just download our latest Hanna Lab App, wirelessly connect your HALO sensor, calibrate, and you are ready to start your measuring experience.
The Hanna Lab App is designed to help anyone get high quality pH and temperature results quickly and consistently. The app allows you to manage, store, and monitor your pH measurements. The app also features built-in help, probe calibration, manual or interval data logging, data sharing, and alarms when the readings are outside user-defined limits.
With seven different models (and more coming soon!) from winemaking to beer brewing, labs and more, there's a HALO for almost everyone.
Download the app now, and try out HALO in demo mode!
5.
edge® Tablet Meters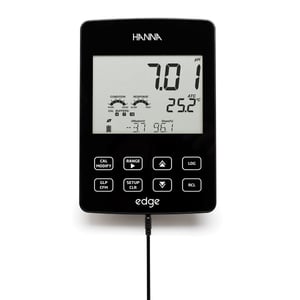 pH is Hanna's specialty, and we strive to offer pH meters to fit everyone's needs. Not everyone has the need or the budget for the HI5000 series advanced benchtop meters, but you still want high accuracy measurements.
This is why our edge® Tablet Meters receives so much attention. Offering high accuracy and resolution and with models that can also measure conductivity or dissolved oxygen, customers can still get the measurements they need.
Designed for the modern era, the edge® Tablet Meters offers simplicity and versatility in a sleek design. Use your edge meter as a portable or benchtop meter. If you need to save benchtop space, just mount it on the wall. Your meter will automatically recognize your digital electrode, providing sensor type, calibration data, and serial number, to make switching probes easy.
6. Ion-Selective Electrodes and our Advanced Benctop Meters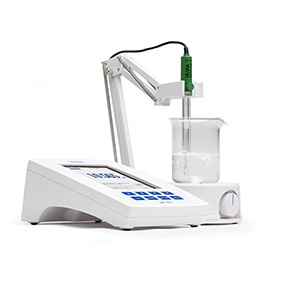 Making it easy to directly measure specific ions, or for use in titrations, our ion selective electrodes (ISEs) are a good option for people who frequently need accurate measurements for specific ions. Some of the more popular ion selective electrodes people asked about at Pittcon were ones for nitrate, fluoride, chloride, and ammonia.
In addition to many questions about our ISE's, we also noticed a lot of interest in our HI5000 Series Advanced Benchtop Meters. These meters support a full range of pH electrodes as well as models that offer selective ion, conductivity, and dissolved oxygen measurements. Some models also have dual-channel capability so that you can use two electrodes at once. Pairing one of these meters with one of our ion selective electrodes is a great way to get the best measurements possible.
7. iris Spectrophotometer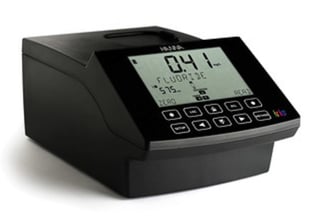 One product that got a lot of attention was our new iris Spectrophotometer. Designed for laboratory and water professionals who need fast and reliable results, iris is a rugged spectrophotometer that offers flexibility in a compact package. Unlike benchtop photometers, iris features precise wavelength selection for complete method compliance and accuracy.
Our advanced optical system ensures consistency between measurements by automatically compensating for any drift in the light source. The concave diffraction grating improves linearity by reducing stray light and maintaining a constant bandwidth.
Designed to be easy, our spectrophotometer comes pre-programmed with more than 80 commonly used chemical analysis methods to help you get started. For those who need a little more, iris guides you step-by step through the method creation process to customize your spectrophotometer with up to 100 personal methods.
We'd like to thank everyone who stopped by Pittcon 2017 – we look forward to working with all the new people we met!

Written by Hanna Instruments
As a leader in innovation Hanna Instruments developed the HALO Wireless pH Meter, which uses Bluetooth Smart Technology to connect to Apple and Android devices running the Hanna Lab App.
Continuing with this tradition, the Hanna Instruments Blog is devoted to sharing the latest in product overviews, how-to guides, and industry specific news to our ever-growing audience.
Contact us at sales@hannainst.com.