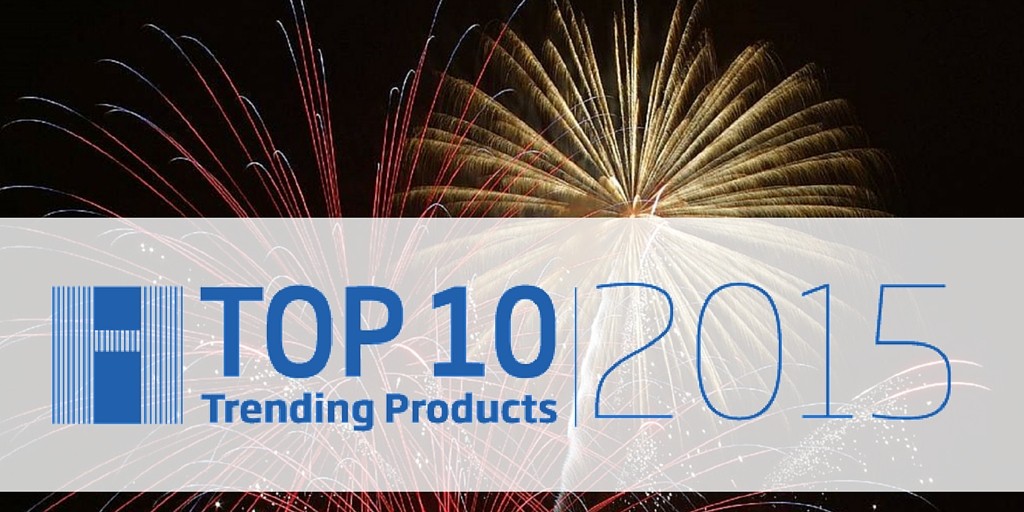 The signs are unmistakable. Times Square is in full clean-up mode. The festive decorations are coming down. The football season is getting serious.
Yep. We've closed out 2015.
Our Product Marketing and R&D teams have been hard at work improving current products and releasing new ones. 2015 was a big year for Hanna, with an even bigger year planned for 2016.
2015 was also our first full year of online sales via our new Ecommerce store. This gives us a lot of interesting data, not just in relation to sales but also which products generated the most buzz.
So here it is. Hanna's first top trending products list.
1. edge®
Meter
Hanna's edge® range proves that meters do not have to be ugly. Beautifully designed and only 0.5 inches thick, the edge is revolutionary in its approach.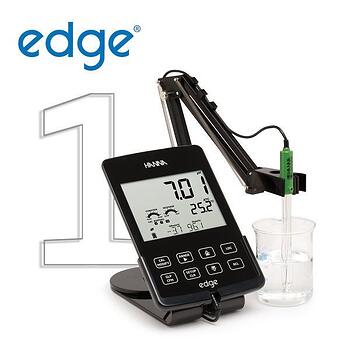 Beyond just beauty, the edge adds function to form with simple operation and sophisticated, exclusive features like CAL Check™ and built-in GLP.
edge® HI2020 is the most popular model. Its primary configuration is for pH testing. The pH kit can be upgraded at any time with additional probes to measure Conductivity or Dissolved Oxygen.
It is also designed to be put to use in different configurations.
as a portable meter
as a wall-mounted meter to save bench space, or
as a bench meter using the edge cradle and adjustable electrode arm
Our service department loves it as well. edge is Hanna's top performing product from a customer satisfaction perspective. The intuitive user experience is a big part of this.
Simply put, edge is awesome. And the data agrees. The edge® wins for the #1 trending product of 2015!
Parameters: pH, EC, DO
Top Industries: Food and Beverage, and Education
Read More about edge® Meter HI2020
Special Mention: Hanna's high performance dedicated benchtop meter range
The next most popular meter is the high-performance range for high volume environments where throughput and accuracy are critical.
The Hanna 5000 series of meters are incredibly fast and responsive. The most popular 5000 series meter for 2015 is the HI5522.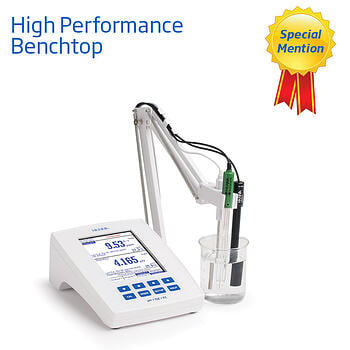 The HI5522 offers:
Efficiency with dual channels allowing for simultaneous measurement of pH, ORP, or ISE on one channel (BNC), and EC, TDS, salinity, or resistivity on the other channel
Faster testing with powerful processors, accelerating response time and programmable dedicated keys for routine operations
Flexibility with ISE choice of concentration units and incremental methods, and advanced data logging
Increased accuracy with Hanna's exclusive CAL Check™ and quality system support with Good Laboratory Practice (GLP) features built-in
Parameters: pH, ORP, ISE, EC, TDS, Salinity, Resistivity
Top industries: Laboratory, Food and Beverage, Water Treatment, Waste Water, Industrial, and Pharmaceutical
Read More about the HI5522 Advance Research Grade Benchtop
2. Waterproof Portable Meters
Hanna's range of general purpose, waterproof, portable meters really took off in 2015.
The edge offers beauty while the waterproof portable range is all about being built tough for challenging environments.
This range of meters is rapidly becoming the industry standard for high performance, portable pH, EC and DO meters built to withstand the toughest environments. The HI98191 launched in 2015 and quickly became the top selling product in this range.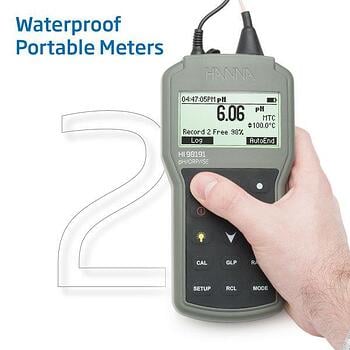 The HI98191 is a rugged, portable pH/ORP/ISE meter with the performance and features of a benchtop meter. The meter offers:
Simple one-hand operation with the ability to create dedicated buttons for measurement modes, and automated features including CAL Check™ and data logging
Fast results with high-performance processors
Versatility with 15 ISE sensors preprogrammed, and extensive choice of measurement units
A complete portable lab - all necessary accessories are packed into a durable carrying case
The HI98191 comes with HI72911B titanium body pH electrode with a built-in temperature sensor for automatic temperature compensated readings. The titanium body is chemically resistant to aggressive chemicals and is virtually unbreakable. The rugged features of this complete system give you versatility without compromise.
Parameters: pH, ORP, ISE
Top Industries: Industrial, Water Treatment, Waste Water, and Environmental
Read More about the HI98191 Waterproof Portable Meter
3. Bluetooth Electrodes
Finally, mobile technology comes to analytical testing.
2015 saw the development of a growing range of HALO® Bluetooth pH electrodes for use with the Hanna iPhone, iPad, iPod Lab App and the edge® blu Bluetooth meter (HI2202).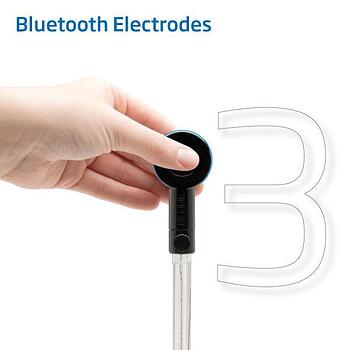 We now have four Bluetooth electrodes available including:
HALO® pH electrodes offer:
Easy operation with one press connect and event tagging
Halo status light indicator for power and operations checking
Sophisticated design with a built-in sensor for temperature compensation
Parameters: pH
Top Industries: Food and Beverage, and Education
Read More about our HALO® Bluetooth pH electrodes
4. Checker® Colorimeters
Hanna offers a range of 35 Checker® colorimeters. The Checker® range offers the affordability of simple chemical test kits while giving you digital, non-subjective accuracy. The fixed wavelength LED and silicon photo detector give you the accuracy of professional instrumentation.
The top colorimeter product is a long-term performer - the Free Chlorine Checker® (HI701).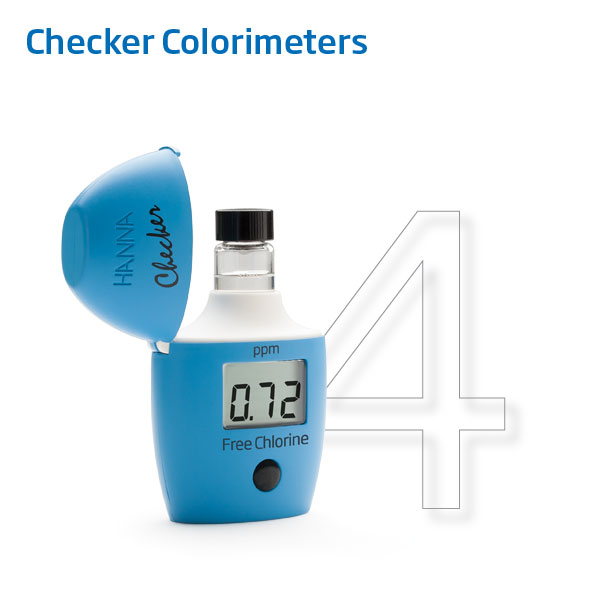 The HI701 is a simple, accurate, and cost-effective way to measure free chlorine. Free chlorine is the active form of chlorine used for disinfection of drinking water, swimming pools, and spas, and cleaning such as vegetable rinsing. The HI701 offers:
Easier to use and more accurate than visual testing kits
Small size, big convenience
Ideal for a range of uses that require the management of free chlorine
Parameters: Free Chlorine
Top Industries: Aquarium, Water Treatment, Waste Water, and Hydroponics
Read More about our Checker® Colorimeters
5. Checktemp® Digital Thermometers
Temperature is a critical parameter, and Hanna offers a range of thermometers from sophisticated specialist models to multiparameter meters.
The simple Checktemp® 1 (HI98509) remains a top product due to the combination of affordability and sophistication.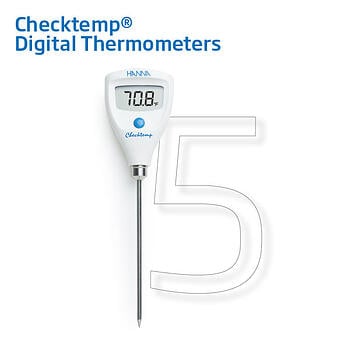 The Checktemp® 1 offers:
The highest accuracy in its class
Simple operation with built-in calibration check (unique at this price point)
Stainless steel probe that works for air and liquid, as well as semi-solid and frozen material
Parameters: Temperature
Top Industries: Consumer, Food and Beverage
Read More about our Checktemp® Digital Thermometers
6. Application-Specific Portable Meters
Hanna offers a range of specialist meters configured to meet the specific needs of different industries from Dairy to Environmental.
A number of application-specific meters launched in 2015, including the HI99162 pH and temperature meter designed specifically for milk analysis. However, the top performing specialist meter was the HI9813-6.
HI9813-6 is an economical, water resistant, portable meter that measures pH, conductivity (EC), total dissolved solids (TDS) and temperature with a single probe.
The meter offers:
Simple operation with one-touch calibration, with selectable EC to TDS conversion available
Versatility with a three-in-one amplified probe that reduces the effect of electronic noise and includes pH, EC/TDS, and temperature sensors
Rugged, waterproof design for use in plant growing environments
Parameters: pH, EC/TDS, Temperature
Top Industries: Agriculture and Hydroponics
Read More about our Checktemp® Digital Thermometers
7. pHep®5 Testers
Hanna introduced its first version of the pHep® (pH electronic paper) in 1986. It immediately revolutionized the standards for pH measurement. Since then, over one million pHep®s have been sold to customers around the world.
The top pHep® product for 2015 is the pH/Temperature Tester (HI98128).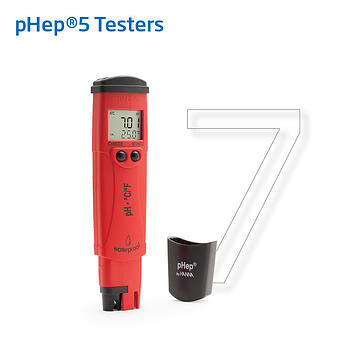 The H98128 meter gives you pH resolution to 0.01 pH and accuracy of +/- 0.05 pH for less than $100. The meter is waterproof, making it able to be used in the field.
The meter also has:
A replaceable pH electrode with extractable cloth junction to prevent clogging
Automatic one or two point pH calibration with auto buffer recognition
Parameters: pH, Temperature
Read More about our pHep®5 Testers
8. Ion Selective Electrodes
Ion selective electrodes were in demand in 2015 - especially our chloride combination electrode (HI4107).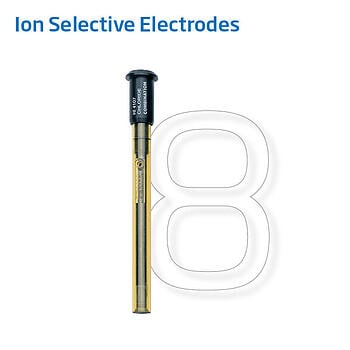 Hanna's ISEs are sought after based on:
Accuracy (skirted cone design) and ease-of-use (one press electrolyte fill system)
Compatibility - the BNC connector makes the electrode compatible with a range of meters and titration equipment
The chloride combination electrode (HI4107) which is popular in the food, water, and agricultural industries for measuring salt content.
Parameter: Chloride
Top Industries: Industrial, Food and Beverage, and Agriculture
Read More about our Ion Selective Electrodes
9. Mini Titrators
While not a new product, single parameter mini titrators came into their own in 2015.
Exclusively available from Hanna, mini titrators make the accuracy and time-saving benefits of automatic titration affordable to a much wider range of businesses.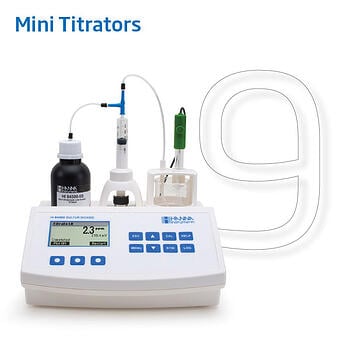 Mini titrators are a great alternative to expensive and slow outside lab testing and time consuming manual titration. The minis are most popular in sectors such as wine, juice and dairy.
Here's the full list.
Parameters: SO2, Formol Number, Titratable Acidity, and Alkalinity.
Top Industries: Water, Food and Beverage, and Wine
Read More about our Mini Titrators
10. Digital Refractometers
Hanna's affordable digital refractometers were a hit in 2015 with the refractometer designed for Brix analysis in food leading the way.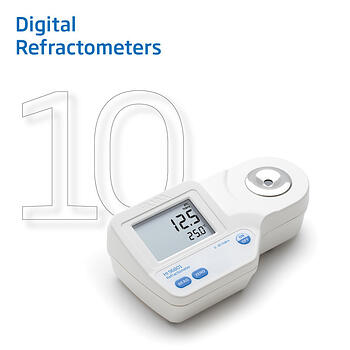 Like the rest of the refractometer range, the Digital Refractometer for Brix Analysis in Foods (HI96801) offers:
Rugged design with a stainless steel well and a tough flint glass optical prism
Easy one-press operation only needing a sample of two metric drops to perform a test
Fast 1.5 second response time
Parameters: Brix
Industries: Food and Beverage, and Wine
Read More about our Digital Refractometers
Special Mention: Automatic Titrators
The star performer not on the list is the Hanna Automatic Titrator.
2015 was a big year for automatic titrators, though.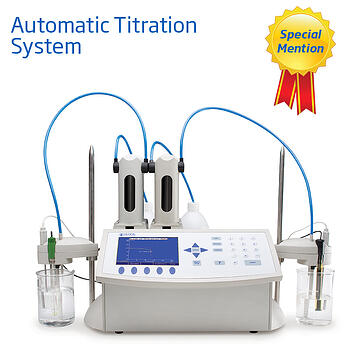 Hanna's technical support team was busy in 2015 helping customers move from manual titration, bringing outside laboratory testing in-house or upgrading their current titration system.
The simplicity of the Hanna system and the friendly support means that moving to a Hanna titration system is a breeze.
The HI902C is a powerful potentiometric titrator. It offers:
Flexibility with the ability to perform acid/base, redox (ORP), complexometric, precipitation, and non-aqueous titrations
Time savings with automatic titrant dispensing, endpoint detection, calculations, and graphing
The ability to integrate with the Hanna autosampler (HI921) for high volume applications
Versatility with the ability to operate as a fully functional pH, mV/ORP, and ion selective electrode (ISE) meter
Pricing depends on configuration, but the HI902C offers one of the best values given its sophistication and versatility. A payback period of 1.5 to 2 years on the Hanna titration system is the big driver of its popularity.
The top reasons for customers moving to Hanna's automatic titration system were:
New compliance requirements
A desire to improve accuracy and save time
A need to speed up access to results compared with outside laboratory alternatives
Top Industries: Industrial, Food and Beverage, Petrochemical, Water Treatment, Waste Water, and Wine

Written by Hanna Instruments
As a leader in innovation Hanna Instruments developed the HALO Wireless pH Meter, which uses Bluetooth Smart Technology to connect to Apple and Android devices running the Hanna Lab App.
Continuing with this tradition, the Hanna Instruments Blog is devoted to sharing the latest in product overviews, how-to guides, and industry specific news to our ever-growing audience.
Contact us at sales@hannainst.com.