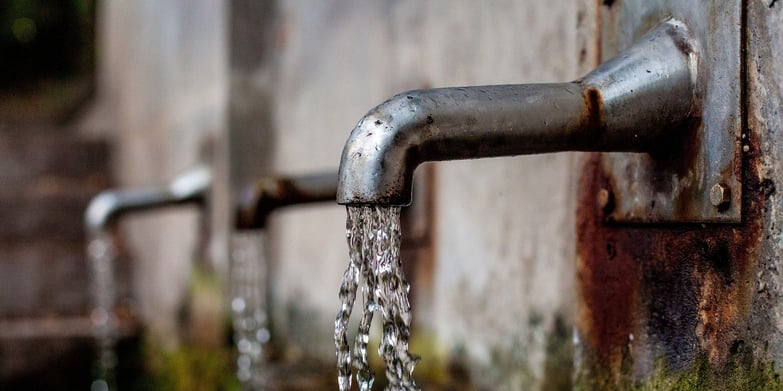 Looking to upgrade your water analysis processes and technology?
Some of Hanna's new additions are the HI98191 portable pH/ORP/ISE meter, bringing the popular range of rugged, portable meters to an affordable price point and, on the high performance side, the HI5522 benchtop meter, making fast, accurate analysis easy.
These new additions, in combination with the established performers, continue to help thousands of water and waste water professionals around the world continue to get their important work done – accurately and efficiently. It's hard to pick our favorites from the 3,000 products that we manufacture. However, we know that you will find value in the price, performance, and functionality of the top products for water analysis that our experts have selected.
Here are Hanna's top 9 products for the water analysis industry.
♦ CAL Check™ alerts users to potential problems during the calibration of the pH electrode. Indicators include "Electrode Dirty/Broken," "Buffer Contaminated," electrode response time and the overall probe condition as a percentage that is based on the offset and slope characteristics.
1. Portable Multiparameter Waterproof Meter with GPS - HI9829
The HI9829 is the ideal multiparameter meter with optional GPS for water quality professionals.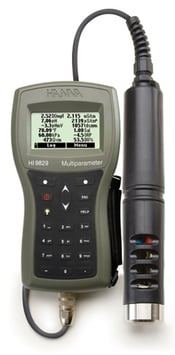 The meter offers:
14 available parameters


The HI9829 monitors up to 14 water quality parameters using a multi-sensor probe. Parameters include pH, ORP, electrical conductivity (EC), dissolved oxygen (DO), turbidity, ammonium, chloride, nitrate, and temperature.

Autonomously logging probe


The probe transmits readings digitally with options to log data even while disconnected from the meter.

Global Positioning System (GPS)


The meter features an optional internal 12-channel GPS receiver that calculates its position to track locations along with measurement data.

Waterproof Protection


The meter has an IP67-rated waterproof casing and can withstand immersion in water at a depth of one meter for up to 30 minutes. The probe features an IP68 rating for continuous immersion in water. The HI9829 is highly customizable and is supplied with all necessary accessories, packaged in a durable carrying case.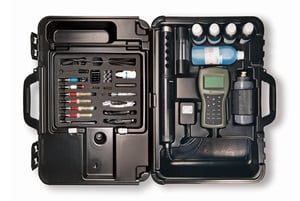 2. Portable Multiparameter Waterproof Meter - HI98194
The HI98194 is a rugged, portable pH, ORP, conductivity, dissolved oxygen, and temperature meter with the performance and features of a benchtop meter.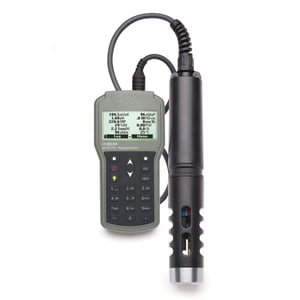 The Hanna HI98194 multiparameter offers powerful features at a price 30% less than the price of comparable meters on the market. The meter offers:
Measurement of up to 12 different water quality parameters
Quick calibration for a speedy calibration for pH, conductivity, and dissolved oxygen using one solution
GLP Data - HI98194 includes a GLP feature that allows users to view calibration data and calibration expiration information at the touch of a key. Calibration data includes date, time, buffers/standards used for calibration, and slope characteristics.
The HI98194 makes professional measurements easy in the field by supplying everything you need in a rugged, thermoformed carrying case. Available in pH/EC HI98195 or pH / DO HI98196
3. Portable pH/ORP/ISE Meter - HI98191
The HI98191 is a rugged, portable pH/ORP/ISE meter with the performance and features of a benchtop meter. The meter offers: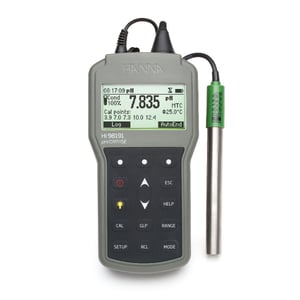 Simple one-hand operation with the ability to create dedicated buttons for measurement modes, and automated features including CAL Check™ and data logging
Fast results with high-performance processors versatility with 15 pre-programmed ISE sensors and an extensive choice of measurement units
A complete portable lab – all accessories are packed into a durable carrying case.
The HI98191 includes the HI72911B titanium-bodied pH electrode with a built-in temperature sensor. The titanium body is chemically resistant and is virtually unbreakable. The rugged features of this complete system give you versatility without compromise.
4. Automatic Potentiometric Titration System - HI902C
Hanna's technical support team just upgraded the HI902C Automatic Potentiometric Titration System to make it even easier for customers to automatically titrate. The simplicity of the Hanna system and the friendly support means that moving to a Hanna titration system is a breeze.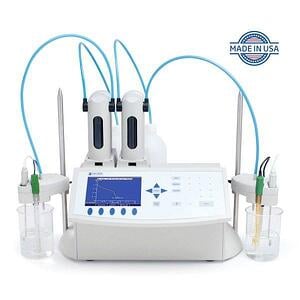 The HI902C is a powerful potentiometric titrator. It offers:
Flexibility with the ability to perform acid/base, redox (ORP), complexometric, precipitation, and non-aqueous titrations
Time savings with automatic titrant dispensing, endpoint detection, calculations, and graphing
The ability to integrate with the Hanna autosampler (HI921) to test up to 16 samples at once
Versatility with the ability to operate as a fully functional pH, mV/ORP, and ion selective electrode (ISE) meter
Pricing depends on configuration, but the HI902C offers one of the best values given its sophistication and versatility. A payback period of 1 to 2 years on the Hanna titration system is the biggest driver of its popularity. The top reasons for customers moving to Hanna's automatic titration system are:
Compliance requirements
A desire to improve accuracy with objective measurement and to save time
A need to speed up access to results compared to outside laboratory alternatives
The HI902C is compatible with the HI921 Autosampler, allowing you to save more time by processing up to 16 samples automatically. You can set up your samples and then walk away while the system does its job.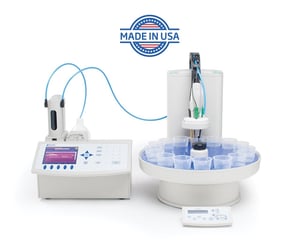 5. High Performance Multiparameter Benchtop Meter - HI5522
Top Product: HI5522 The HI5522 High performance benchtop is our multiparameter offering for pH/ORP/ISE and EC/TDS/Salinity/Resistivity. This meter offers powerful features while still being intuitive in its operation.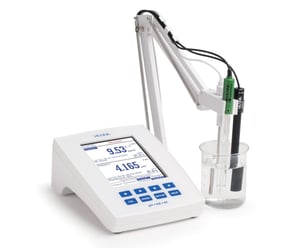 Key features of this meter are:
Dual channels allowing for simultaneous measurement and display of pH, ORP, or ISE on channel 1 (BNC), and EC, TDS, salinity, or resistivity on channel 2
Flexibility with ISE choice of concentration units and preprogrammed incremental methods (i.e. known addition, etc.)
Hanna's exclusive CAL Check™ and quality system support with Good Laboratory Practice (GLP) features built-in.
6. edge® Multiparameter Hybrid Meter - HI2020
Beyond just beauty, HI2020 edge meter adds function to form with simple operation and sophisticated, exclusive features like CAL Check™ and built-in GLP. edge HI2020 is the most popular model. Its primary configuration is for pH testing. The pH kit can be upgraded at any time with additional probes to measure Conductivity or Dissolved Oxygen.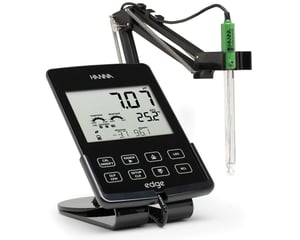 It is also designed to be used in different configurations, as a portable meter as a wall-mounted meter to save bench space, or as a bench meter using the edge cradle and adjustable electrode arm. edge consistently ranks at the top for customer satisfaction and is one of the top Hanna meters.
7. pHep®5 pH/Temperature Tester - HI98128
Hanna revolutionized pH analysis with the tester range back in 1986 with the pHep (short for pH electronic paper) series, with remarkable accuracy in a tiny instrument. When we first introduced the pHep, the goal was to bring accurate pH measurement to everyone. The current pHep line continues the legacy of bringing professional results to everyone.
Top product:
pHep®5 pH/Temperature Tester gives you pH resolution to 0.01 pH and accuracy of +/- 0.05 pH.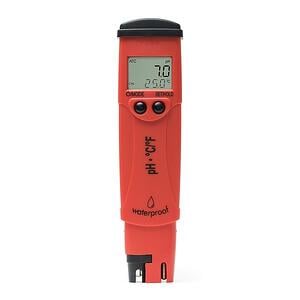 The HI98128:
Is waterproof, allowing field use.
Uses a replaceable pH electrode with extractable cloth junction to prevent clogging
Offers automatic one- or two-point pH calibration with auto buffer recognition
8. Free Chlorine Checker® HC - HI701
Hanna's checker range brings the objective accuracy of photometry to a new value price point. The units give you a digital readout - no color interpretation required. The Checker® family of products also includes handheld photometers for a variety of parameters such as ammonia, fluoride, and hardness. The top checker for water analysis is the HI701 Free Chlorine Checker®.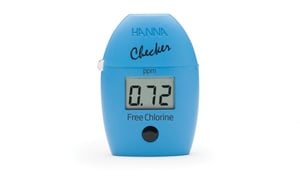 The Free Chlorine Checker® HC HI701 is a simple, accurate, and cost-effective way to measure free chlorine. Free chlorine is the active form of chlorine used for disinfection of drinking water, swimming pools, and spas. Chlorine is even used for rinses in food, such as fresh vegetable washing. The Checker® family offers:
Greater accuracy than visual testing kits
Small size, big convenience
Simple one-button operation
9. Ion-Selective Electrodes
Our easy-to-use ion-selective electrodes (ISEs) are compatible with a range of meters by way of a BNC connection. This means that you can use our ISEs on any meter with a BNC connection, even if we don't make it. Our ISEs are sought after based on:
Accuracy – The skirted cone design of our reference compartment gives unmatched stability and accuracy.
Ease-of-use – Electrolyte is easily flushed with a push of a button.

The fluoride half-cell electrode (HI4010) and reference half-cell (HI5315) are popular in the water industry for measuring fluoride in water. When paired with the HI5522 or HI5221 benchtop meters, the ISE can perform automatic calculations of fluoride in water by known addition for superior accuracy and repeatability.

The Ammonia combination ISE (H4101) offers a powerful, rapid method of determining ammonia content in the water treatment process. This ISE uses a gas permeable membrane and an internal pH element to measure the pH of samples. With this ISE, it is no longer necessary to use and dispose of hazardous reagents as with the photometric tests. With the ISE, accurate, simple measurements are easier than ever. Please view our full range of ISEs for a wide variety of parameters in water treatment.
Conclusion
Hanna offers a full range of products for water treatment needs. Everything we offer is fully supported by our dedicated application and technical support teams, from testers to titrators. These top 9 products for water analysis are just a sample of the 3,000 product Hanna manufactures. We strive to help make testing more affordable, easy-to-perform, and accurate.

Written by Hanna Instruments
As a leader in innovation Hanna Instruments developed the HALO Wireless pH Meter, which uses Bluetooth Smart Technology to connect to Apple and Android devices running the Hanna Lab App.
Continuing with this tradition, the Hanna Instruments Blog is devoted to sharing the latest in product overviews, how-to guides, and industry specific news to our ever-growing audience.
Contact us at sales@hannainst.com.